Discarding your garbage away is an essential part of cleaning up the space. According to single-use plastics, whenever you throw your garbage in a proper black bag, you have a debt to the environment. Hence, have a look at some eco-friendly garbage bags and select among them that cause less harm to the environment.
Several trash bags are there that include plastic and end up in landfills, and this might go unnoticed. Plastic trash bags take several years to decompose, causing a threat to the environment.
Are environmentally friendly trash bags good for the environment? Of course, plastic garbage bags break down into microplastics that could harm the ocean and can become a threat to animals. Moreover, processing and manufacturing plastic garbage bags lead to greenhouse gas emissions leading to environmental damage. So, make sure to use plastic devoid of trash bags.
To protect the environment and to lower the harmful effects of plastic, make use of nature-friendly trash bags such as biodegradable bags, compostable bags, recycled plastic bags, and reusable bags. Live a zero-waste lifestyle without any harmful impact.
In this informative article, grab more information about nature-loving trash bags that would help you to make a stronger decision towards environmental protection.
Alternatives of non-biodegradable trash bags
Are you on the way to sustainable living? Are you thinking of what alternatives to use when you want to go eco-friendly? As with various zero waste practices, make use of materials you have, recycle whenever possible, and search for several non-biodegradable garbage bags. Here are some eco-friendly garbage bags alternatives that would lessen plastic trash bags consumption.
Paper bags
Paper trash bags are a great alternative for non-biodegradable trash bags. One of the best alternatives as it easily breaks down is reusable and recyclable. Moreover, it comes at an affordable price. Make use of leftover paper bags as trash bags and live a less harmful life. You can even use newspaper trash bags, as it is thin and can easily break down than any other paper bag.
Plastic bags made from plastic waste
Sometimes, you need a big garbage bag for a particular reason, and you don't have any bag to upcycle. For that, hunt for garbage bags designed with other plastic waste. Reduce the effects of non-biodegradable waste with the help of this alternative.
Reusable trash bags
The reuse option is better than single-use products and it greatly eliminates plastic waste. Try reusable trash bags as they could be machine washed at home again and again. A best biodegradable trash bag that would occupy messy things too into a bin. Moreover, these trash bags are anti-bacterial, water-resistant, and easy to clean. It also doesn't add much waste to landfills.
DIY fabric trash bags
Are you having sewing skills? If yes, then you can design your eco-friendly garbage bags properly. A very greener alternative to non-biodegradable trash bags. Reusing material that you have is one of the great options. This activity would give you a great feeling of making something of your own.
Recyclable plastic bags
Recycled plastic bags include recycled plastics, which are less toxic. This type of trash bag helps to lessen the pollution that arises with single-use plastic that ultimately ends up in landfills. But, before buying this type of garbage bag, make sure to consider the percentage of recycled content. The more recycled content, the better it is.
Things to consider while buying eco-friendly trash bags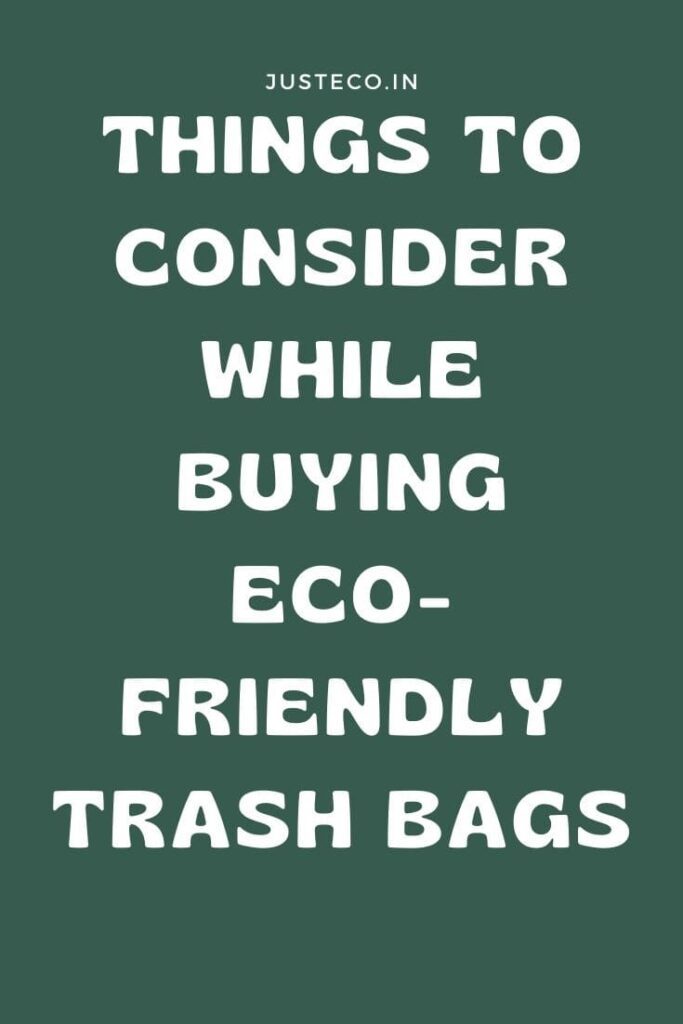 Plastic bags are pretty durable, but are not biodegradable and lead to environmental pollution. Nowadays, there are various environmentally friendly alternatives to plastic garbage bags, such as biodegradable and compostable garbage bags. But, here are some things to consider while buying nature-loving trash bags.
Correct materials
Nature-loving garbage bags are designed with sustainable materials such as plants. Plant-oriented bags act as the best option when picking up eco-friendly trash bags. Proper use of materials releases fewer greenhouse gases and doesn't lead to landfill waste, and this makes it the greatest alternative.
Leakage
Do you want to make your surroundings clean? Make sure to purchase garbage bags with proper sealing properties. This would make your trash bag leakproof and properly contained. A trash bag without leakage acts as the best trash bag.
Carrying capacity
Ensure to purchase the trash bag with the right size as per your needs. Don't waste your money on trash bags that lead into landfills. Lessen the carbon footprint and make your trash bag more productive.
Benefits of eco-friendly trash bags
There is not a single compromise in the quality of nature-loving bags, and its advantages are also various. Have a look at the various advantages of these incredible bags.
Carbon emission reduction
Biodegradable trash bags release fewer carbon emissions than plastic bags. The organic material of nature-loving bags lessens the rate of carbon emission. Makes the environment free from harmful chemicals.
Reduction in waste
Biodegradable trash bags break down with time, and that means there is a huge reduction in waste. It greatly saves the beauty of the planet by reducing waste.
Decrease in pollution
As biodegradable materials break down easily, they decompose naturally and are consumed by various other natural components. This awesome process reduces pollution and doesn't even release toxic chemicals.
Best eco-friendly garbage bags
When it comes to selecting environmentally friendly trash bags, who knew there would be so many options. The most essential point for good trash bags is that it firmly holds up when filled, that it fits up the trash can, and doesn't leave more waste into landfills. Here are the best biodegradable trash bags that are durable and sturdy.
Stout Envision's EcoSafe 6400
Earned a lot of fame as it is widely available and fully compostable.
It permits you to save a huge amount of money and is sturdy.
Designed from biodegradable plastics and degrades in 45 days.
Mainly designed for the collection of organic waste.
Enviro Guard
Sale
Enviro Guard Anti Bacterial Garbage Bags Small - 18 x 20 Inches (Pack Of 3, 90 Bags, Lemon Scented)
Anti-bacterial- Garbage bags that inhibit the growth of bacteria, mold, algae, fungi, and yeast from food refuse, thus keeping our hands safe from infection and ensure the safety of our near and dear ones at home.
Multifunctional use; ideal for home, kitchen, office, hotels, household use, parties, baby diapers, and clearing pet's litter
Package Contents - 30 Bags/Roll (Pack Of 3 , 90 Bags, Lemon); Country of Origin : UAE (ECAS Approved)
Dimensions - (46 x 52 cm)/ (18 x 20 Inches) Size: Small ; Lemon Scented- Helps To Reduce Unpleasant Odors
These eco-friendly trash bags are much stronger as compared to other compostable bags.
Designed from vegetable starch and corn is the best biodegradable trash bag.
These bags are fully compostable and much tougher than other trash bags.
Sandesh dustbin bags
Sale
Sandesh Dustbin Bags Biodegradable For Kitchen,Office,Small Size 180 Bags (Green,43cmX48cm)(Garbage Bags/Trash bags)
MEDIUM SIZE GARBAGE BAG BIODEGRADABLE:- Sandesh Oxo - Biodegradable Garbage Bags with Detachable Thread are of A1 quality and fits your dustbins with ease. Size of the garbage bag (43cm X 48cm) which makes sure that you can carry the bags to the dump yard holding it with ease.
MULTIPLE OCCASION USAGE FOR THE SMALL SIZE BIODEGRADABLE GARBAGE BAG: These dustbin bags can be used in your kitchen ,office,warehouses ,in pantry and can be disposed without any problem due to its biodegradable nature.
APPROPRIATELY THICK AND STRONG:The Sandesh Oxo - Biodegradable Garbage Bags 17X19 biodegradable has perfect strength to hold weight upto 5 kgs with wear and tear even if these bags are used for carrying wet waste.
MADE IN INDIA: These green small sized garbage bags are manufactured in INDIA which ensures the quality and accountability of the product
One of the best biodegradable trash bags is leakproof.
It offers great sturdiness along with great advantages.
This bag is worth the money and not harmful.
Beco compostable garbage bags
Sale
Beco Eco Friendly Compostable Garbage Bags for Dustbin | 45 Pcs | Medium 19 X 21 Inches | Pack of 3 | Biodegradable
ECO-FRIENDLY- BECO Garbage Bags are made from Plastarch Material (PSM), using Corn Starch and plant friendly raw materials which is 100% environment-friendly. Its Biodegradable nature enables easy disposal.
COMPOSTABLE- Compostable materials are materials that break down completely into non-toxic components (water, carbon dioxide, and biomass) that will not harm the environment. It can be composted at Home and Industrial Compost, Decomposes within 2-6 months.
MATERIAL- Our Biodegradable Compostable Garbage Bags are Strong and thick containing a Seal in the bottom to prevent any leakages. Heavy Load Wastes can be easily carried with this Garbage Bag
MULTI-PURPOSE- Our Garbage Bags can be used for Office, Kitchen, Bathroom, Bedroom, Living Room, Baby diapers, Car, Pet's litter. It is Suitable for both wet and dry waste.
Designed from plastarch along with cornstarch and various plant-friendly raw materials.
This awesome bag is devoid of chemicals and is odorless.
It is pretty strong and taken in multipurpose use like for kitchen, office, bathroom, and many more.
Bio biodegradable compostable garbage bags
Designed from corn starch and popularly known for its finish and long service.
Includes simple perforation technology to separate bags.
Provides too much hygiene and convenience, and is durable and strong.
Honest home company garbage bags
Sale
The best garbage bag for your trash can as it would make life easy.
This trash bag is pretty strong, with a high load-bearing capacity, and can bear lots of weight.
Offers strong toughness and puncture resistance.
It keeps your home clean and keeps away the foul smell.
Bility garbage bags
Sale
Ideal for every kitchen, and comes in a pretty simple design.
It is 100% recyclable along with good quality and designed from recycled raw material.
It maintains hygiene and cleanliness all around.
Shalimar compostable garbage bags
Sale
Its star-sealed bottom offers extra strength and is devoid of any leakage.
Properly maintain hygiene and cleanliness.
100% recyclable along with decomposing nature and is the most convenient trash bag.
BioBinBag compostable garbage bags
green zipper BioBinBag Compostable Extra Thick Medium Kitchen Trash Eco Friendly Recycle Trash Bags (Medium, 19" x 21", 49 x 54 cm)
🌱【MADE FROM CERTIFIED COMPOSTABLE MATERIAL】 : Use Exclusively for this specific purpose only "Handling of Solid food Waste" Does not contain Plastic. Made from corn starch and plant extracts; compostable and environment-friendly.
🌱【ETHICAL CHOICE】: BioBinBag compostable bags are the ethical choice for a cleaner environment and an ECO-FRIENDLY future. Thank you taking care of our planet for FUTURE GENERATIONS by replacing plastic with our sustainably manufactured, compostable bags. Together, U 'n' I make Earth a better place.
🌱【HIGHEST BIOBASED CONTENT】: BioBinBag Compostable Bags are made from plant starches and contain NO polyethylene. Bags are durable, nontoxic, easy to use and great for the environment.
🌱【GUARANTEED COMPOSTABLE】Unlike many "biodegradable" garbage bags, ours decompose completely in both home and commercial composting facilities, leaving only nutrient-rich humus, water, and CO2.
Designed from verified compostable material like plant extracts and starch.
An ideal choice for a clean environment and offers a great eco-friendly future.
These bags are non-toxic, durable, and easy to use and greatly identify the content of the bag.
Conclusion
Several other ways are available with which you can get rid of garbage. Encourage others also to adopt eco-friendly means and consider various environmentally friendly trash bags. The best trash bags to compost organic food materials such as leftover food scraps.
Make your environment eco-friendly with the help of eco-friendly trash bags. Make sure to save the environment, reduce waste, and save the planet. The above trash bags would greatly help you to keep the environment clean and hygienic.
More Articles: