Yoga has taken over the entire world; now it has become a trend, a lifestyle, and bonding opportunity. During this hectic lifestyle, yoga is an ethical treatment to achieve peace. Yoga offers mindfulness and awareness of the world you live in. For that, you require a non-toxic yoga mat to perform yoga properly. Finding a yoga mat is not hard, almost every retail store, grocery store, and local market sells them.
Eco-friendly mats greatly help you to connect with the environment. But, how could a yoga mat be eco-friendly, and how to select the best eco-friendly yoga mat? These yoga mats are designed from renewable and natural materials and are biodegradable – the best advantage for the environment.
Its disposal and manufacturing process don't release harmful chemicals into the environment. Your yoga practice can greatly impact the environment. Scroll through the article to know why to choose an eco-friendly yoga mat.
Why choose an eco-friendly yoga mat?
Eco-friendly yoga mats have become the love of every fitness freak, and have made their place immensely into people's hectic lives. One of the best advantages is that yoga mats are the best option for the environment. Moreover, a better option to appreciate healthy and spiritual yoga.
A smart investment that offers a huge number of benefits. Yoga mats are an important accessory in yoga practice either indoor or outdoor. Let's dive into the various advantages of environmentally friendly yoga mats.
Avoids slipping
Yoga asanas include body positioning and stretching in various ways that cause slipping. During yoga, the body gets prone to cramps and fatigue leading to feet and hands slipping. Slipping often occurs when you perform yoga practice on polished and smooth surfaces.
So, a yoga mat is the best option for this problem as it offers surface support and protects joints and protruding bones.
Offers cushion-like feeling
Various yoga positions like table pose and kneeling need a cushion to secure joints from injury. A yoga mat with proper thickness allows you to sustain poses for a longer duration. Its extra layer helps in insulating your body against various cool and warm surfaces.
Permits proper alignment
The sustainable yoga mat maintains proper body alignment and balances even when you are sweating. Sweat on the mat makes it difficult for you to do various yoga poses. So, search for a mat with the right grip that provides proper balance.
Offers great hygiene
No matter how clean the floor of the gym or yoga center is, there is a chance of infection. Make sure to use your yoga mat to assure your safety from various bacteria. The best eco-friendly yoga mat is devoid of the unpleasant smell of yoga center mats.
Instils positivity
Rolled yoga mat in front of your sight reminds you of the scheduled time. Rolling out of the yoga mat represents your commitment and dedication to yoga practice. A yoga mat is a symbol of mindfulness and freedom to do yoga. It maintains a happy and healthy lifestyle.
Best sustainable yoga mat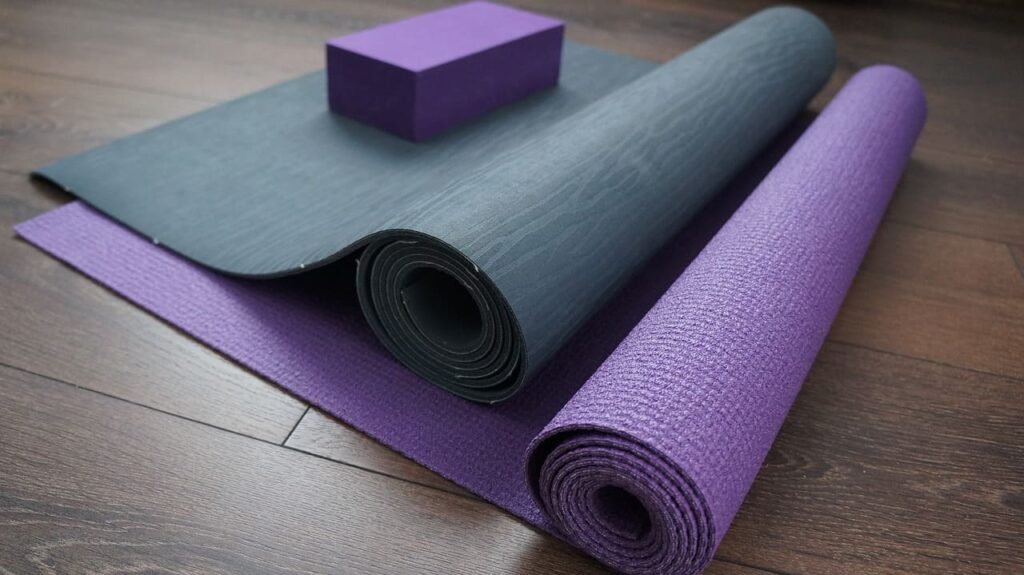 Now, an era has come of modern yoga and the yoga mat is a recent invention. With the increasing demand for yoga, the selection of traditional yogis has made way for yoga mats.
Yoga mats have made it comfortable to perform all yoga poses smoothly. Yoga mats provide a firm grip, protect your body against injury, are easy to clean, and are portable. Various people are becoming conscious of environmental safety, so they opt for eco-friendly yoga mats. Have a look at some best eco-friendly yoga mats that make your body aligned and are less harmful.
Solara premium yoga mats
Sale
SOLARA Premium Yoga Mats for Men Large, Eco Friendly Non Slip Yoga Mat for Men 6 feet, Non Slip Surface and Optimal Cushioning,72"x 26" | eBook and 50 videos included |Yellow & Black
WHAT YOU GET - Large size TPE Eco-friendly Yoga Mat, Carry Bag, eBook, 50+ Yoga Videos and 2-year SOLARA Promise
NEW ECO FRIENDLY TPE MATERIAL: Our yoga mat for men is made of technically improved TPE (thermoplastic elastomer) material. It is a flexible material that can be stretched repeatedly to provide excellent durability, abrasion resistance and no harmful chemicals.This TPE material passed strict SGS product testing and REACH safety testing.
DOUBLE SIDED ANTI-SLIP: The top surface with TPE material prevents hands and feet from slipping, Special sticky non slip texture on both sides, the wavy bottom grips the floor firmly to prevent injuries.
MULTIFUNCTIONAL USE: Use the mat for anything from yoga, Pilates to stretching, meditation, and other strengthening exercises. 6mm thick, 72" extra long and 26" wide ensures comfort for people of all shapes and sizes.
Designed with a thermoplastic elastomer and is a very flexible material that offers sustainability.
Can be continuously stretched and offers perfect durability, and is devoid of any type of harmful toxin.
This yoga mat avoids feet and hands slipping and the bottom of the mat firmly grabs the floor to avoid injuries.
Makes your stretching and other strengthening exercises smooth.
Leviosa cork yoga mat
This mat is designed with a combination of cork and EVA, and the upper layer is designed from 100% natural material.
Good density cork ensures that the mat is sweat absorbent and odorless, which makes it recyclable and biodegradable.
Cork is designed from sustainable material, making the yoga mat eco-friendly. It is easily portable due to the adjustable sling.
Boldfit yoga mat
Sale
Ideal for people of all sizes and shapes, and its TPE material provides a comfortable feeling during yoga.
Its lightweight and easy strapping feature make its storage and transport pretty easy. Its slip-resistant advantage avoids injuries.
This natural rubber yoga mat is very eco-friendly and durable, is biodegradable, and is devoid of latex, silicone, and various other harmful substances.
ASE cotton yoga mat
Sale
Designed from 100% cotton yarn and handloom by trained weavers. Best eco-friendly yoga mat for flooring workouts and various yoga asanas.
An awesome sweat absorbent yoga mat, and can be carried and rolled easily.
Its material has a strong grip over the mat and is great for people who practice yoga regularly.
Strauss eco-friendly yoga mat
This yoga mat has the advantage of rubber and plastic in one and provides the best abrasion, good elasticity, and non-toxic yoga mat.
Helps in proper body alignment and maintains your yoga positions, also maintains as body balance.
Its non-slip texture on the surface of the yoga mat enhances traction and offers a firm grip on the floor.
Its textured surface avoids sliding off your hands and feet when they sweat.
Yoga land guru mat
Designed with 100% cotton that offers an awesome grip and maintains a proper connection with the earth.
This natural rubber yoga mat makes it anti-jerk which prevents injuries. Moreover, it is easy to wash.
Easy to carry anywhere and to roll.
Porchex yoga mat
It is lightweight and durable with extra thickness and provides additional support to your joints during yoga practice.
Includes textured sticky non-slip surface for better traction and firm grip. Moreover, it provides great comfort for all yogis.
Designed with EVA-friendly material and offers great benefit to the environment.
Manduka eKO yoga mat
Manduka Prolite Yoga Mat, Indulge, 71-Inch/Indulge
BEST IN CLASS MAT: The lightweight version of our PRO multipurpose workout mat is the #1 recommended mat by fitness instructors and yoga therapists all over the world, built to last a lifetime
HIGH DENSITY CUSHION: Ultra-dense, 4.7 mm cushioning provides superior support, stability, and joint protection, along with comfort on any surface
RESPONSIBLY MADE: Each mat is meticulously handmade in an emissions-free German facility with 100% latex-free PVC that has been certified STANDARD 100 by OEKO-TEX; Handmade products may vary slightly in length, width and/or thickness
BREAKING IN YOUR MAT: The non slip grip of the mat will improve with use, and textured top layer allows you to flow between postures without sticking; Keep practicing to break your mat in over time
Designed from 100% natural rubber along with non-toxic foaming materials and is biodegradable.
Includes a tri-layer feature that offers a firm grip, slip resistance, and proper durability.
Does not include any type of harmful material or dyes.
Conclusion
So, if you are a fitness freak or yoga lover, practice yoga in your life and make your life more flexible and calm. Yoga offers several health benefits in stretching and strengthening, and the correct yoga mat can reduce the injury risk. Ensure to use the best eco-friendly yoga mat, enjoy the most comfortable and injury-free yoga.
Frequently Asked Questions
Q1. What are typical yoga mats made of?
Various yoga mats are designed with rubber or vinyl. Vinyl yoga mats last for a long time and are capable of enduring much more, while rubber yoga mats are made from cotton and jute. These materials make the mats eco-friendly.
Q2. Which Are The Best Eco-Friendly Yoga Mat Available on The Market?
There are various types of yoga mats available in the market and every mat has its special feature, but the best ones are:-
1. Solara premium yoga mats.
2. Boldfit yoga mat.
3. eKO Lite yoga mats.
4. Porchex yoga mat.
Q3. Do Sports Equipment Companies Like Adidas or Reebok Make Yoga Mat?
Yes, sports companies like Reebok and Adidas are very reputed companies and they make every workout equipment ranging from yoga mats to skipping ropes.
Q4. What Is The Best Eco-Friendly Yoga Mat For Kids?
As yoga is in much demand nowadays, parents are looking over their kids so that they also practice yoga at a young age and stay fit. Here are some best eco-friendly yoga mats for kids:-
Yogi junior kids yoga mat
Yoga direct fun yoga mat for kids
Gaiam yoga mat
More Articles: