A lot of people are concerned about the worst impacts on the environment being produced every single second. Certain things are responsible such as industrial wastes, fossil fuels, plastics wastes, transportation, etc. However, most people didn't do anything about that only because of lack of knowledge & the fear to think that they are alone & can't do anything by themselves.
People could start many things to improve the environment's health. It can even start from home, or you could be gone more narrow & can begin with your kitchen. Creating the kitchen eco-friendly, the journey begins from having green food but does not end with food. There are a lot of things, or eco-friendly products for kitchen are present.
Looking forward to making the kitchen environmentally friendly. But, Have No idea where to start? How to do it?
Suppose these questions are also dizzying in your mind. Then, this guide will indeed prove beneficial for everyone who wants to go towards sustainability in the kitchen by changing a few kitchen activities & products in their kitchen.
By dint of this, you will get to know various things about Eco-friendly kitchens, why we need to use Eco-friendly products. Moreover, the post is enough to clear all queries related to Plastic-free kitchen products.
What do you mean by eco-friendly kitchen?
Eco-friendly kitchens differ from traditional kitchens in many criteria; they are designed by looking at the environment's health & try to use those things created from waste, can be recycled easily & produce less waste.
Once humans start adding products or living habits, that will not become the cause of harming the environment. That type of kitchen is considered an eco-friendly kitchen.
In other words, if we approach a zero-waste lifestyle in the kitchen and put efforts to produce less waste or all produced waste are reused in other work whether it is water wastage, electric energy, vegetable & fruits peels. It means the zero waste kitchen is successfully built at home.
Few tips people could follow to make the kitchen eco-friendly
Buy kitchen stuff in bulk
Start using compost bins
Use chemical-free detergents
Collect kitchen water in containers & reuse it for other work, like in toilets, gardens
Avoid utensils made from plastic
Use of reusable & biodegradable bags
Grow herbs in the kitchen (Coriander, Mint, Basil, Dill, etc.)
5 Reasons Why Should Enlarge The Use of Eco-friendly Kitchen Products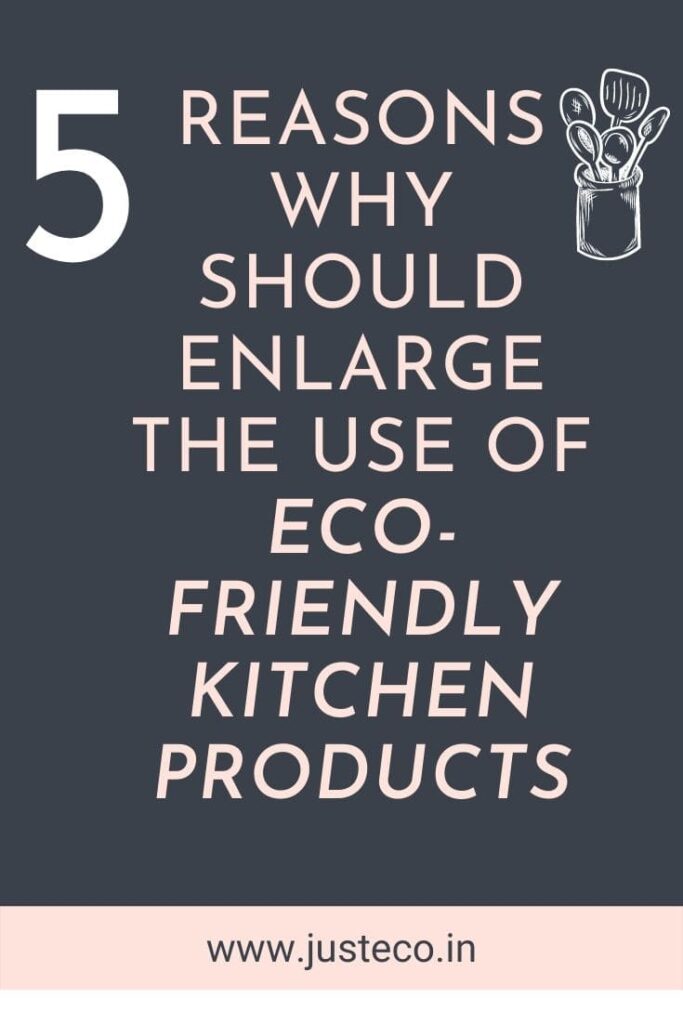 People are going green even then they are finding the answer of why we should use eco-friendly products, how it affects our surroundings & make it beneficial for our planet.
Hence, if you're one of them who doesn't know what precisely eco-friendly is & not aware of the importance of eco-friendly products at this moment. Then you should read five reasons why people should enlarge the use of eco-friendly products to inspire them to use more sustainable kitchen products.
Saving Money
Let me introduce this in the first position. I've mentioned this first because I feel it is essential for every person's life which people look & think many times before purchasing any item, i.e., is money.
How amazing it would be if you would get a chance to save money only by swapping your daily used kitchen products.
Don't be shocked because it's true.
Let me tell all individuals that there are specific ways to save money by going green & that is just switching to biodegradable products.
Also Read: Types Of Biodegradable Plastic | What Does Biodegradable Mean
Eco-friendly products for the kitchen are designed for the long run. However, sustainable kitchen products seem expensive. But in the long run, if you compare natural products with daily used non-biodegradable products, you will realize the difference.
Encourage the use of eco-friendly products
As we know this is the world where people copied each other. If some people will start using environmentally friendly products in their kitchen, then by looking at this more individuals will start to buy Eco-friendly products for the kitchen.
Help green businesses to grow
When people would start taking benefits of compostable kitchen products or boosting the demand of eco-products, it will directly increase the growth of the green business, which majorly influences the country's economy & rise it.
Hence, In that case, More countries & their citizens go towards green business & start it, which will make the planet healthier & pollution-free.
Make your life healthier
Everyone is aware of the problems yielding due to plastic wastes. That is the biggest reason why we should use Eco-friendly products for the kitchen.
Tons of plastic wastes are produced every day in the world & a maximum percentage of them are not recycled or reused by anyone, which will negatively impact the environment. Hence, It will become a cause of ocean pollution, soil, and air pollution. And also Affect animals, humans, marine life, etc.
Become a part to protect the planet
There are so many NGOs, startups and individuals, who are continuously working on protecting the environment, spreading awareness in societies to keep the surroundings clean, not throwing garbage anywhere, and using organic waste to convert into compost.
You can also do it at your home & become a part of those working on protecting the planet, or if you want, you can join any NGO's as a volunteer & learn various things about the environment.
13 Eco-friendly Products For the kitchen
Suppose you have been finding the options of eco-friendly products for the kitchen. Here I took for you a list of 18 spectacular eco-friendly products for the kitchen that will perfectly replace your non-biodegradable items used in the kitchen. I characterized this into five groups.
Paper towels & Napkins
The first category of eco-friendly kitchen products is paper towels. They are also known for numerous names like paper tissues, napkins, or kitchen rolls. A mixture makes paper tissue rolls of natural materials that are collected from several plants.
These products are best for the kitchen because it is specially designed by focusing on the water-absorbent property. Generally, if people use any tissue to clean the surface in the kitchen, that will break, which is not good enough, which isn't seen in these paper towels.
Presto Paper Towels/Tissue
No products found.
This paper towel contains six large rolls, i.e., equal to 15 regular rolls & they are strong & absorbent in the property so not easily broken while cleaning; Paper towel could be used in the kitchen, bathroom, toilets, etc.
Brand says the presto paper tissues are made by the pulp of sustainable forests.
They are proud of their all products & give money-back guarantee to their customers.
Solimo towel paper roll
This Paper tissue roll is made of natural virgin paper
Provide softness touch
They have a highly absorbent property
It could be used in food touching.
Six regular rolls come in 1 packet.
Beco reusable kitchen towel
Beco Bamboo Kitchen Towels, 20 sheets Reusable upto 2000 times, 100% Natural and Ecofriendly Alternative to Tissue Papers
🌳 REUSABLE & LONG LASTING- 20 premium quality Bamboo Sheets in 1 Roll. 1 sheet can be washed and reused up to 100 times! It is Hand & Machine washable.
🌳 ODOUR-FREE & FRESH- Our kitchen Towel is ergonomically designed with extra-long bamboo fibers to resist odors and provide a hygienic experience with each use. It is Anti-Bacterial & Anti-Fungal
🌳 MULTIPURPOSE USE- Our multipurpose kitchen towel roll is a great as the sheets can be used in different ways right from cleaning appliances, to wiping surfaces to lining your containers etc. Its perfect to use in homes, offices & kitchens.
🌳 HIGHLY ABSORBENT- Made with tightly woven Bamboo structures our reusable kitchen towels are highly absorbent they are great for wiping wet surfaces or soaking up any messy spills.
The brand says it could replace 60 regular paper rolls because of its reusable feature.
These paper rolls are washable in the machine & could be used 100 times.
They are washable, strong, soft & extremely high in absorption.
Helps to save money because this one roll works, equal to 60 conventional paper tissues.
Beco paper towels are environment friendly & chemical-free.
Through this paper towel, it reduces more than 3000 tons of tissue waste each day.
Protect the environment & encourage to use of naturally made items.
Origami kitchen towel
Origami Non Woven Reusable Kitchen Towel Roll - Pack of 2 (80 Pulls Per Roll, 160 Sheets)
Strong, washable and reusable kitchen tissue for sustainable and eco-friendly cleaning.
Food Grade and Safe: The towels are specially crafted to be safe for contact with food, providing peace of mind during meal preparation and clean-up.
Economical replacement minimizes bacteria build up and keep your kitchen safe
Clear perforation for easy tearing of sheets and fits on standard dispensers.
Washable & reusable
It could be used in the kitchen as a towel
Soft in touch
Contain liquid absorbing property
Natural cutting board
Cutting boards are the most common item used in the kitchens, but what people don't know is they also come in materials that don't affect the environment.
Multiple options are available in the market of wooden/bamboo cutting boards are
Bulfyss bamboo/wood chopping/cutting board
Sale
Bulfyss Large Natural Bamboo Wood Chopping Cutting Board for Kitchen Vegetables, Fruits & Cheese, BPA Free, Eco-Friendly, Anti-Microbial (34 x 24cm)
✔ [100% FOOD SAFE ] - Bulfyss bamboo cutting board is made from high quality, top-grade, eco-friendly bamboo tree, 100% BPA-free & doesn't contain any chemicals or toxic elements.
✔ [ALL-IN-ONE] - Ideal for chopping, slicing, dicing, cutting & serving food. You can use them on the kitchen counter while cooking.
✔[Durable & Easy to Clean] - Thick Bamboo that can withstand heavy blows, chopping and soaking, would not warp or split, and is more durable than most brand cutting board whose material is wood. Clean with mild soap and water; dry thoroughly. Do not submerge in water to extend life of the boards.
✔[KNIFE FRIENDLY] - Your heavy-duty, wooden cutting board is better for your knives and cutlery than plastic, glass, acacia, teak and maple when prepping fruit, veggies, chicken or bread
The chopping board is made of bamboo trees, which is 100% biodegradable
It could be used for cutting, chopping, slicing.
In manufacturing, it does not contain any toxic chemicals
Easily washable with mild soap & water
Green Mile organic bamboo chopping board
Sale
Greenmile Organic Bamboo Chopping Board with Juice Groove, Large Wooden Cutting Board for Kitchen, Wood Chopping Block and Carving Board for Meat Vegetables - 14.5 x 11.5 x 0.6 Inch, Large - 1 pc
Sleek And Functional: We designed this vegetable cutter board to provide you with a simple way to prep meals, chop veggies, serve guests and more along with featuring a deep groove to catch any liquids and prevent them from getting to your counter.
Just The Right Size: Each bamboo chopper board for kitchen measures 14.5 x 11.5 x 0.6" to provide just the right fit for most kitchen counters and tabletops. It's not too big or too small so you can use it daily for chopping, cutting, serving, and more.
Durable Bamboo Build: Bamboo products are good for the environment; our wooden chopping board is made using only sustainable Moso Bamboo that's durable, water-resistant, and easy to clean to provide long term use without relying on any plastics, BPA, metals, or other harsh materials.
Made For Everyday Use: Thanks to the sturdy and thick build, our wooden chopping boards for kitchen are suitable for use with most knives and resistant to scratches. They are a breeze to clean and take the hassle out of meal preps.
Bamboo is used as raw material to build the chopping board
It comes with a high durability feature so a high pressure knife will not easily affect the board.
Have wood colour which boosts the looks & makes it more attractive.
KitchenFest kitchen chopping board
Sale
KitchenFest® Bamboo Kitchen Cutting & Chopping Board with Hook, Brown (24 x 34cm Size, Pack of 1)
➤Material : 100% Natural Bamboo Wood Made Board, Its BPA free so it's safe to use on a daily basis.
➤A Better Cutting Surface: Thick, Extremely Durable, the smooth surface also prevents your knives from dulling too quickly.
➤Its perfect for cutting fruits, vegetables, breads, cheese and more. wooden chopping board is better for your knives and cutlery than plastic & glass
➤Reversible Design: Stylish reversible and ultra-thick design makes bamboo chopping board for kitchen a must for your cooking tasks. Easy to wipe & clean. Long Life Product
Provide a better cutting, chopping experience on the board
Could be used for all hard & soft food items, fruits, vegetables.
The brand gives surety that it is a BPA (Bis phenol A) free product.
The design comes with great finishing, knife friendly and also provides a holding space.
Hokipo® bamboo wooden cutting board
Sale
HOKIPO® Bamboo Wooden Cutting Board with Handle - Medium - 29 x 19 x 1.8 cms
BE THE STAR OF YOUR OWN COOKING SHOW! You'll feel like a Food Cooking pro with our bamboo cutting board. With this heavy and high quality kitchen chopping board you'll have the ideal bamboo cutting board to slice and dice all day and create finely cut slices of fruits and veggies resulting in mouthwatering gourmet dishes. Our chef chopping board is also durable enough to take a beating whether you're using a long knife or a cleaver to work through tough bones and joints.
GREAT FOR FOOD SAFETY - HOKIPO High quality kitchen chopper board is made from 100% premium bamboo with no added dyes or stains which is toxin free and has natural anti-bacterial properties. Bamboo is strong and dense as hardwoods, but unlike glass or plastic chopper boards, won't dull your kitchen knives. ECO-FRIENDLY - HOKIPO eco-friendly bamboo cutting board is attractive yet functional - allowing you to cut, chop, prep, and serve your food on the same board.
REVERSIBLE DESIGN – Stylish reversible and ultra-thick design makes bamboo chopping board for kitchen a must for your cooking tasks. This reversible cutting board design offers versatility that allows you to cut food on one both the surface. HANDLE DESIGN: This wooden chopping block has a handle which makes it easy to take and carry, and meanwhile you can hang the board on the kitchen walls.
CHOP WITHOUT WORRIES - Made with super heavy-duty organic bamboo, all our deluxe jumbo wood cutting boards are specifically designed to withstand even your biggest and sharpest knives and cleavers. It is definitely sturdy enough to resist warping. You can use it as a fruit slicing board, bread cutting board, vegetable chopping boards or meat cutting board.
The brand offers a premium quality bamboo made cutting board at a cheap price.
Easy to clean & hold
Hokipo wooden cutting rectangular boards come in three different sizes: Medium, Large & Extra large.
The board has a stylish thick design because of that it becomes longer life product.
Also Read: 10 Harmful Effects Of Plastic On The Environment | Causes + Effortless Solutions
Food storage reusable bags
At present maximum food comes in plastic packets, containers & polythene. Even at home people store their foods in plastic boxes, Through this, we could see so much waste around us which are not compostable, and for sure, it is gradually destroying, surroundings, living beings & human health. But it could be stopped by the use of plastic-free containers/bags.
Leafyganic eco-friendly reusable storage bags
Leafyganic (Set of 7) Reusable Cotton Muslin & Mesh Net Vegetable Storage Bags for Fridge /Cotton fridge storage bags(Natural)
👍 FRIDGE STORAGE BAGS-3 SIZES: Mesh bags in 3 sizes (Small, Medium, Large) and Muslin Cotton bags in 3 sizes (Small, Medium, Large) with 1 Package Bag available in a Pack. To keep fruits and vegetables fresh longer in the fridge than plastic bags, with their breathable & airy fabric. Cotton bags use for vegetables, beans, nuts and bulk food, grain, toys, cables, cosmetics, coins, washing small laundry item, travel and much, much more.
♻️ ORGANIC COTTON VEGETABLE BAGS: Our Premium Quality manufactured Reusable Cotton Mesh and Muslin vegetable bags are made from superior quality cotton, beautifully designed and made to last. These strong cotton fridge bags come with cotton drawstring with a wooden bead and can easily hold all your fruits and vegetables. The tare weight on each bag is color-coded by sizes
🌎 EARTH SAVER & TOXIN FREE: 100% natural produce fridge bags are high quality and free of toxins, dyes, bleach and other nasty chemicals fertilizers. It helps you to improve the quality of the land, prevent water contamination, and conserve biodiversity. Our mission is no trash to be sent to landfills, incinerators, or the ocean so we are offering PLASTIC FREE products. All our wadding, fabrics, labels etc are completely natural, including our packaging.
🎁 PERFECT GIFT CHOICE: Mesh produce bags are lightweight, eco-friendly and made of natural cotton. Fold it and carry it to produce shopping or simply use it for storing vegetables and fruits. Made in a breathable and stretchable design this mesh produce bag comes with a pull-string closure so the contents don't fall out. The vegetable storage bags are best present idea for yourselves, friends, family members, co-workers, women and men who enjoy a healthy lifestyle and earth saver.
These storage bags are biodegradable and safe for the environment
Made of cotton net fabric which provides transperency means don't need to open to check.
It uses for storing food items and keep it fresh for long time.
They are reusable, washable, Eco-friendly.
Earthy fab
Earthy Fab Fridge Bag for Vegetables Storage. 100% Cotton, Biodegradable, Reusable, Multipurpose. Set of 4
Keeps Fruits and Veggies Nutritious and Fresh - Breathable cotton fabric allows ethylene gas to escape, which keep vegetables and fruits fresh for longer in the fridge. Works great as Vegetable Storage Bags.
Multipurpose, Reusable, Washable - Store any household items, Ideal for fridge bags for vegetables, accessories, toys, medicine, cosmetics etc. without any harmful impact on our planet and your health.
Eco-Friendly, Non-Toxic, Bpa Free - These cotton bags for fridge are the best eco alternative to end plastic waste from our day to day activities. Say goodbye to toxic plastic forever.
Give Eco Boost to Your Home and Kitchen - These reusables fridge vegetable bags are made of natural cotton with smart print. Drawstring closer make them easy to use.
Beddify reusable fridge storage bags
Sale
Beddify Set Of 12 Reusable Fridge Storage Bags For Vegetables and Fruits Dual Layer Mesh Net Multipurpose Multi-Size Kitchen Storage Bags Organizer with Sturdy Zipper (Multi-color)
Zero Waste : One More Step Closer To a Zero Waste Lifestyle and Cuts Plastic Bag Use In a Convenient Way; Get 12 Pcs Reusable and Durable Bags, Great Addition To Your Goal of Being Plastic Free and Helping The Environment, and Each Mesh Bags Has The Potential To Eliminate Up To 1000 Plastic Bags Over It'S Lifetime.
Pack of 12 Multiple Sizes Meet All You Need - 12 High Quality Bags in 3 Sizes Makes Them Very Versatile, Package Contains 4 Large size 14×9 Inches, 4 Medium Sizes 12×9 Inches, and 4 Small Size 10×9 Inches Bags, Great Not Only For Veggies and Fruit, But Also Great For Toys, Stationery, Beuaty Or Fragile Products.
Lightweight : With The Highest Standards of Quality, Safely Hold All Your Fresh Produce. Made of Ultra Fine Yet Strong Mesh Polyester, The Mesh Bag Is Super Lightweight That It Won'T Add Weight To Your Produce.
Scan Through Easily - Unlike Most Non-Transparent Mesh Bags From Other Brands, Our Produce Bags Is Nearly Transparent So You Can Easily See Through The Bag To Know What'S Inside.
They are completely washable & environment friendly
Available in different sizes
These cotton bags coming in the set 12 bags which has different sizes of bags 4 large size bags, 4 medium size & 4 small size bags.
Flip & tumble reusable vegetable bags
Arka
Sale
Arka Home Products 100% Cotton Vegetable Storage Fridge Bags (Set of 10) Eco-Friendly, Non-Toxic, Washable, Reusable
100% Eco-friendly Reusable Fridge bag made of pure cotton exclusively for vegetables. These bags are Non-Toxic made with No Chemicals, made from natural delicate cotton fabric, Which will keep your Vegetables fresh for a longer time in the fridge.
Size – 10″ X 12″. Package Contains 10 Fridge Bags. Light-weight bags - easy to carry in your shopping bag.
Get rid of plastic that comes in contact with your food. Protect your family and the environment.
Beautiful print on the bag makes it easier for you to separate your veggies. Prints as shown in picture.
100 percent natural cotton vegetable storage fridge bags
These bags doesn't contains
Comes 10 bags in one set
Colour: off white
Have 4.5 rating on
Conclusion
As we discussed several topics in the post, like what is the eco-friendly kitchen, the list of zero waste kitchen products & why we should use these sustainable products
These all points are targeted on only one thing, i.e., to protect the environment. However, Don't forget that the most crucial thing in environmental protection is the 3R's of waste management, which consists of reduce, reuse & recycle. Consequently, if people follow 3R effectively, it will decrease the harmful effects on the environment many times.
We expect this knowledge will prove helpful for you & inspire you a lot to go & buy Eco-friendly products for the kitchen. You can also go with a few products we discussed above.
More Articles: