In India, Ganesh Chaturthi is the most awaited festival. The festival marks the birthday of Lord Ganesha, God of wealth and prosperity, and Lord Ganesha is worshipped before every new beginning. From eye-catching pooja rooms to beautiful pandals, Ganesh Chaturthi is the most joyous festival celebrated with great pomp.
The festival surrounds people with fun and color of happiness. No proper rules are there when it comes to decorating Ganpati pandal, and it turns out to be extraordinary that it showers divinity and purity.
From setting up beautiful flowers to other decorations, people make lots of efforts to make Lord Ganpati stay at their homes. These days people go with eco-friendly Ganpati decoration ideas to avoid pollution.
Every year people come up with new and creative ideas to decorate Ganpati pandals at their homes, and that also gives a chance to go green on a budget. So, this year it is necessary to develop some innovative ideas that make the surrounding atmosphere pious, try to make eco-friendly ganesha at home, and stay connected with nature.
To make eco-friendly Ganesha is crucial nowadays as chemical-laden statues of Lord Ganesha ruin the surroundings. Reading the article, you can realize the importance of the environment is a must. 
Here are some very stunning ideas to decorate Ganpati pandals at home to make Lord Ganesha's home pleasant.
How To Decorate Ganpati Pandal At Home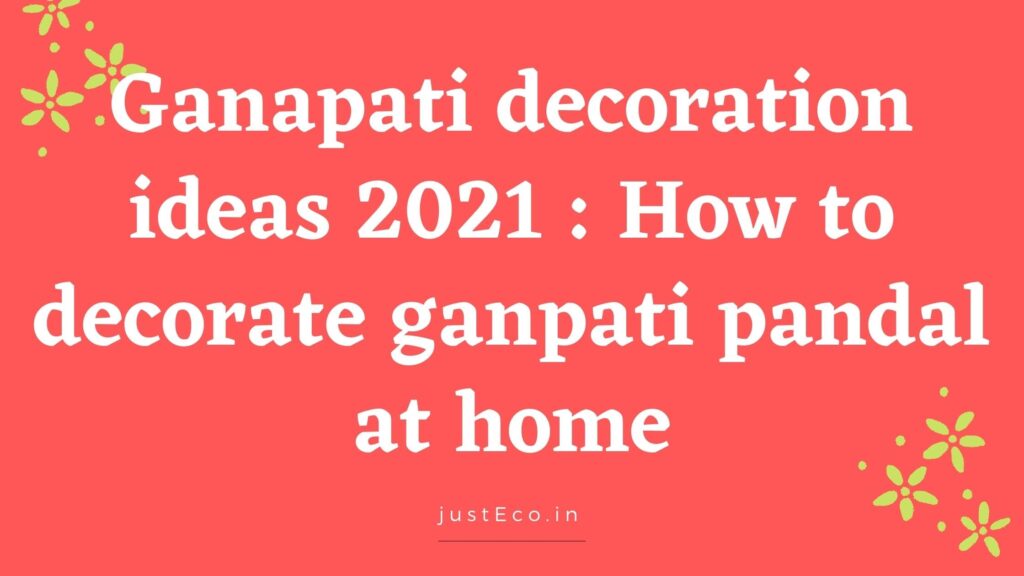 Let's view some eco-friendly Ganpati decoration ideas that contribute to protecting the environment.
Using coloured paper fans
You can do the same just as you did in your childhood by making fans from coloured papers and making the Ganpati pandal a vibrant and playful place. Purchase some colorful papers with bright colours and make your decoration more beautiful. Fold them in various shapes and decorate the whole pandal with these colourful papers.
Make use of coloured flowers.
Flowers act as the best way of decorating Ganpati pandal as flowers lighten up every person's mood and create a festive spirit. Select flowers of different shapes and shades and arrange them as per your choice. You can decorate the whole pandal with flowers or only the back wall of the pandal. You can even combine flowers along with rangoli to obtain a beautiful view.
Bright lightning
Adopt a zero-waste lifestyle and decorate your Ganpati pandal with earthen lamps or diyas. These eco-friendly products brighten up the whole pandal and give it a vibrant look. You can even use other bright lights or candles to make the place more bright.
Beautiful wall decor
Wall decoration quickly enhances your space's view and offers a spiritual look; you can try with wall paintings of Ganesha and create a more festive spirit. To go with more traditional ideas seems to be a good idea, especially with garland.
By using colourful mats
In India, people sit in front of idols and pray, so using colourful mats would be a good idea. Colourful mats or carpets enhance the beauty of the place. 
Using drapes
Drapes, a great decoration and vibrant look for every festival. Make use of your old beautiful sarees or dupattas and hang them vertically to look at curtains behind Lord Ganesha's idol. Whorl lights around these drapes and experience the brightful view of the pandal.
Making rangoli
Don't just decorate walls, but decorate your floor with vibrant and beautiful rangoli colours. Design beautiful rangolis with colours from the market or make organic colours at home to go eco-friendly. Sprinkle rose petals and enjoy the most beautiful look of the pandal.
Planning a theme
Want some exotic Ganesh pandal decoration ideas? You can plan a theme for decorating the pandal, and the most beautiful theme is the lotus theme, as it would be simple. Place the Ganesha's idol on a paper lotus made of thermocol. This lotus theme offers a beautiful look to the pandal.
making bamboo palna
Design a beautiful and lavishing palna for Ganesha's idol designed from the best bamboo accessories. If not able to design at home, get one from the market and make Ganesha pandal a holy place.
Conclusion
This year, I made a vow to celebrate Ganesh Chaturthi in an eco-friendly manner, save the environment, and encourage others to do so. By doing so, the decoration would be simple, but it creates a pious environment. So, get on with these great ideas of Ganpati decoration at home.
Celebrate this year's Ganesh Chaturthi with some new ideas of decoration and make it vibrant. The simpler the decoration, the more it becomes spiritual.
More Articles: