Seeing the current situation of the environment, to make eco-friendly Ganesha at home is vital because chemical Ganesha statues are ruining our surroundings & that is a big reason why destructive effects are spreading in the environment.
Ganesh Chaturthi is a Hindu festival of India called a Vinayaka Chaturthi, which is celebrated every year for ten days. It is celebrated because, according to religion, people think that it is the birthday of Lord Ganesha.
Indians also trust that the Lord Ganesha will come from Kailash-Parvat to earth to save & protect their devotee & lord Ganesha will take the trouble away.
During the days of Ganesh Chaturthi, people will buy statues of Lord Ganesha for home personally from the market, but they don't look at the materials used to make those Idols. Those statues are made by using harmful chemicals which damage the planet. That's why making eco-friendly Ganesha is crucial to use from today.
Finally, After the end of the day when they all statues will immerse into the river. That will harm the water. That's why we are writing this blog post, so this year people realize the importance of the environment & start using eco-friendly Ganesha.
What is eco-friendly Ganesha
Eco-friendly Ganesha is a statue that is made of organic materials which will not affect our surroundings badly, by using these substances it could not harm the environment.
Lots of materials present that could be used to make idols of eco-friendly Ganesha to get to know read the full post and use any one of them to make eco-friendly Ganesha at home this year.
Make eco-friendly Ganesha at home and its types
To use chemical-free idols of Vighna Harta Ganesh is very trending, whereas everyone is aware of the importance of eco-friendly products. By this, you will get a chance to know that there are many options available which you could use to make eco-friendly Ganesha.
This year, you can go with so many different types of eco-friendly Ganpati by creating them at your home using materials like clay, paper, soil, or more with similar kinds of Biodegradable substances.
These are some of the idols of Ganpati you can try to make eco-friendly Ganesha at home.
Clay Ganesha
This is the first type of Ganesha. This is the most widespread & best seller of eco-friendly Ganesha in the market because if you are searching for the statue of eco-friendly cute Ganpati, then it is a substance from which the idol made will be easily found.
Soil Ganesha
That is an important source and is used to make eco-friendly Ganesha everyone is familiar with.
Soil is the first idea that comes to anyone's mind to make a statue of eco-friendly Ganpati. It is a very cheap & sustainable way of making any kind of idol. It could also be said that you don't need to spend money to make eco-friendly Ganesha.
Paper Ganesha
It is the most effective way to make eco-friendly Ganesha at home. In this method, people can make innovative Ganpati through their creative mind without any worry because they are using newspapers that don't have any use. And you can also recycle your newspaper to make a statue of Ganpati without spending a single penny.
Chocolate Ganesha
No one could even think about this idea to make eco-friendly Ganesha at home with chocolate. Yes, you read it right; you can make the idol of Ganpati by using chocolate as a substance in your home. 
And you will visarjan that statue of Lord Ganesha in milk at a place of water after competing for all rituals. Milk symbolizes purity in India because Indians also use milk during the worship of many gods and believe it is more divine.
Eco-friendly Ganesha kit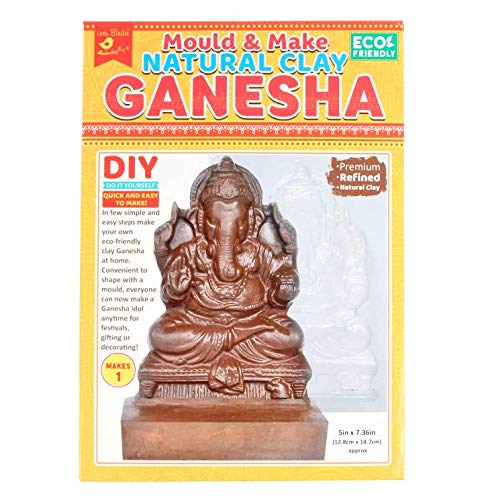 Eco-friendly Ganesha kit basically contains all stuff to make an idol Ganpati which is made up of clay, organic fertilizer, potting mix and painted from natural colours which do not contain any kind of chemicals.
Also Read : 9 Amazing Eco-Friendly Travel Products Add In Your Backpack | Right Now
These idols immerse easier in water and degrade faster, which tends not to harm the environment as much as those made up of POPs or chemical-used statues.
Some Eco-friendly Ganesha idols grow into the plant, after which we can have it as long as we want. This includes Terracotta Coloured Pot & Saucer(18 inch UV stabilized), Garden Ganpati material which includes Natural soil, coco peat, and neem fertilizer), Gardener choice potting mix(3 coco peat nd 2kg potting mix), Natural colours, Ladyfinger seeds, tulsi seeds, and round tomato seeds and a user manual with detailed instruction & steps.
You could buy an eco-friendly Ganesha kit from amazon, which provides you with all commodities that help you make eco-friendly Ganesha at home anywhere or anytime effortlessly.
Importance of eco-friendly Ganesha
As of now, people have learned the importance of Eco-friendly Ganesha that is why they currently do not go for bogus coloured Pop idols because eco-friendly Ganesha idols are made up of organic colours and natural materials like clay, leaves, paper, or similar biodegradable materials, which do not harm the environment in any way.
Here we have discussed why should we use eco-friendly Ganesha:
Eco-friendly Ganesha idol are chemicals free: The POP Ganesha idols are not frequently used as of now because it contains magnesium, sulfur, lead, etc., which, when contaminated in the water, becomes harmful enough to kill fishes and other water animals.
Good for human health: The Ganesha idol made up of Plaster of Paris are harmful to humans also. Just take an example if you're eating any kind of fish after the visarjan, you can suffer food poisoning as fishes have been dwelling in chemical-prone water bodies.
Easy to make: The statue of eco-friendly Ganesha are very easy to make. Anyone can make them with the help of their family members, which makes the family bond uptight and strong.
Available easily: These can also be made by things that are effectively accessible at one's home also. As the average ratio of the people that the environment, the Eco-friendly Ganesha are easily available in the traditional and online markets.
Diamonds and glitters: The glitters and the diamonds used to make Ganesha statues are sometimes harmful to the human body and can cause allergy and other health-related problems because of containing or presence of chemicals. Alongside Eco-friendly, Ganeshas are not made with any of such sparkles.
Also Read : 8 Interesting Ways To Save The Environment That You Will Like
Conclusion
Humans will not take care of the statues made of? And harmful effects of the statues are due to chemicals because in the end all statues will be thrown down into the water which will harm the environment.
I hope after knowing about how to make eco-friendly Ganesha at home or the importance of naturally made Ganpati you will inspire yourself & others and start using eco-friendly Ganesha from this year.
Frequently Asked Questions
Q1. Where can I buy an eco-friendly Ganesha?
As usual, you can buy eco-friendly Ganesha from any nearby shop of yours. But, If you use an online medium to buy eco-friendly Ganesha you have two options from where you buy
The first one is you can go with some popular e-commerce sites such as Amazon, Flipkart, etc. which usually people do
Or another option is to buy products from those sites that specially sell the same type of products. Ecohindu is one of them.
Q2. Which clay is used for making eco-friendly Ganesha
There are various types of clay available in the market which are used for different purposes but the best Eco-friendly clay you can make at your home by using salt, water, and flour. & hence use that clay to make eco-friendly Ganesha at home
Q3. Why should we buy eco-friendly Ganesha instead of the POP ones?
The main purpose to use eco-friendly Ganesha instead of the Plaster of Paris is because POP's have lots of harmful effects on the environment and Pop made statues takes a long time to dissolve in the water & pollutes the river.
Q4. Is Eco friendly Ganesha misunderstood from a religious point of view?
We don't think that to make eco-friendly Ganesha idol is wrong from a religious point of view because in old times people worship Lord Ganesha by using eco-material like turmeric & leaves. where turmeric represents the statue of Lord Ganesha.
As the goddess, Parvati did the first time by making an idol of Lord Ganesha & then put life in it.
More Articles: