Face masks, a very important thing that will remain with people for some time. While at various places they are very essential in public places due to pandemics. Before 2020, face masks were an accessory for health professionals and doctors, but now it has become a part for living life.
Adopt a zero-waste lifestyle and protect yourself from this pandemic. Thankfully, various production companies can craft eco-friendly face masks made up of hemp, cotton, etc. Have you ever thought of converting face masks into fashion pieces? These masks have become a trendsetter and give full protection.
Let's head towards the details of face masks that enable you to live a sustainable life.
What is a Sustainable face mask?
Face masks are an essential accessory to stop the spread of the pandemic. And single-use masks create tremendous waste that leads to a carbon footprint. So, for people who are not in the healthcare industry, eco-friendly face masks have become an alternative. If you want to wear a mask, select a reusable mask that offers no harmful impact on the environment.
These types of face masks are stylish also and go well with every outfit. A sustainable face mask is created with purely renewable energy and recycled materials. The filter of these masks includes a 98% efficiency rating that scraps out all germs, bacteria, air pollutants, dust, and other harmful things.
Why should we wear a face mask?
Medical staff and health professionals wear masks to stop the spread of disease, but nowadays, normal people are also advised to put on face masks to prevent themselves from getting the disease. Are you thinking about why wearing face masks is so essential? So, here is the answer to your questions.
1. Helps in reduction of viral transmission
If face masks are worn properly then it can reduce almost 70% of viral transmission. Proper wearing of a mask is important, simply wearing it is not crucial. Before wearing face masks make sure to wash your hands, and properly cover your mouth and nose. The mask should be fit tightly to your face and should be over your mouth till you come out of the public place.
2. Reduce the asymptomatic spread
According to research, 50% of covid-19 transmission occurs beforehand. So, wearing an eco-friendly face mask can lower the risk of infection. It greatly saves other people from the asymptomatic spread. And in this pandemic time, face masks are very essential.
3. Protects others from grave illness
Wearing a face mask is effective through communal effort. Face masks prevent the droplets from coming out. Not only this, but it also provides good hygiene in some situations. Reusable masks are the best option as they tell about the importance of environmental protection.
Problems occur in an environment using non-biodegradable face masks
Face masks are now essential to wear in every corner of the world. But, now they have started to become a problem on sea and land. As many people are told to make use of face masks, but no proper guidance is given on disposing of masks.
And as now many countries are opening their lockdown conditions, a huge number of face masks are required. And if no proper disposal would be there, then the environmental management system can trigger.
Tons of face masks are designed from plastic materials, and if disposed of then it remains in the environment for hundreds of years and causes pollution.
Are you aware of the harmful effects of non-biodegradable waste? If yes, then you will switch to sustainable face masks. These non-biodegradable plastic face masks can have a very serious impact on the environment.
Firstly, these face masks cause the risk of disease spreading to litter pickers or the public who come near to litter. And it is known that viruses survive on plastic for almost seven days.
Apart from human beings, it poses a threat to plants and animals and also is a great cause of ocean pollution. Accumulated plastic waste breaks up the ecosystem and chokes the animals as they are not able to distinguish it.
Even if the animals don't get choked, they become malnourished as these plastic materials only fill up their stomach and don't provide them with nutrients.
If spoken about small animals, they can get entangled in it and can die. Plastics take time to break, and firstly, it breaks into microplastics and then into nano-plastics. These small particles live for a long time in the environment and disturb the food chain.
Sea, oceans, etc, are equally at disadvantage just like land and air. As many people throw plastic face masks into these water bodies and contaminate them.
Just imagine if one face mask can cause so much trouble, then how much hundreds of face masks can cause? Then it can destroy the whole living system of the environment. So, it is advised to make use of eco-friendly face masks to a great extent.
Types of face masks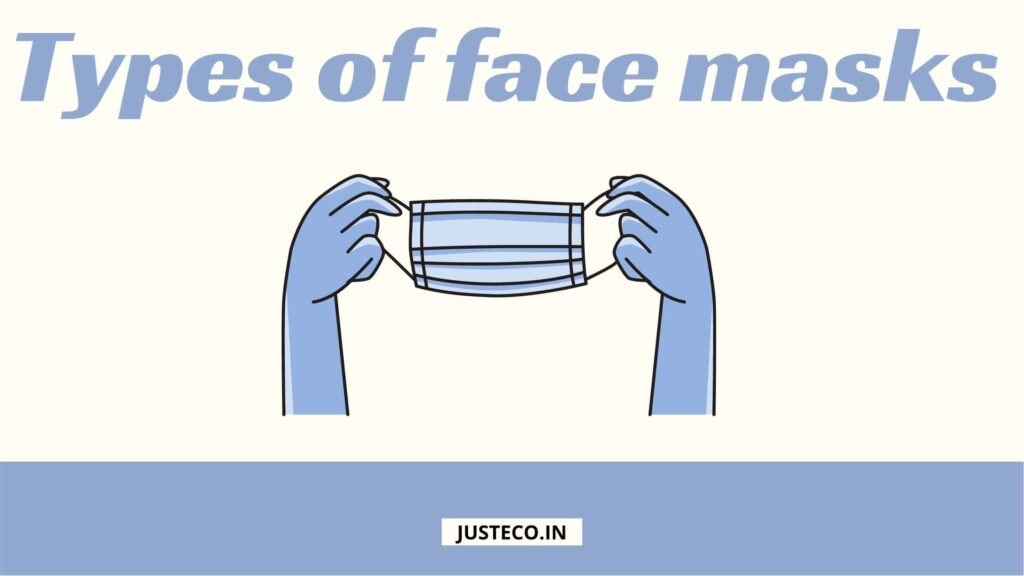 A better mask is not able to stop the virus from affecting you, but it can stop the contribution of the virus to other people. And greatly helps the nation to come back to the normal condition that is free of disease.
You might be wondering which face mask would be safe to use, right? So, here is the list of various types of masks that are specially designed to prevent the spreading of diseases.
1. Basic cloth face mask
Here comes the standard version of the face mask used in day-to-day activities, and also suggested for people to use in an ongoing pandemic. Wear this basic face mask while going to any public place like a grocery store.
2. Surgical face mask
This type of mask is created with a disposable and thin material. Health professionals wear this mask and it covers their mouth, nose, cheeks, eyes, and forehead. Mainly, this type of mask is worn by doctors, nurses, and therapists.
3. N95 respirator
The N95 respirator is a very crucial face mask worn by medical people and health care workers, and not worn by the public. It is recommended not to buy this mask if you are not in direct contact with a patient. They are rarely available and it needs to be stored for those who require these masks.
4. P100 respirator or gas mask
This type of mask is not associated with healthcare professionals. Instead, a P100 respirator is worn by woodworkers, painters, and by those who frequently come in contact with chemicals and lead.
5. Self-contained breathing apparatus
This face mask is commonly worn by firefighters so firefighters can breathe clean air in serious situations. Not suitable to buy for the sake of a pandemic, and if you are purchasing it you are snatching away the equipment of firefighters that they need.
Advantages of eco-friendly face masks
Various options are there to prevent infection like face shields, face coverings, etc. But, among these options, eco-friendly face masks are recommended to avoid contamination of the environment. Various people are concerned about the environment and are using sustainable face masks. Reusable face masks are a good choice and here is why:-
Basic cloth masks also prevent the traveling of droplets to other people just like surgical masks do. So, why wear surgical masks? Surgical masks are in great need of healthcare professionals so leave it for them.
Half of the population doesn't know about disposing of surgical masks. And if not disposed of properly, then it can become a threat to the environment. While reusable masks are easily disposable.
Also, you can save money by using eco-friendly face masks, as you can use one mask over 60 times. That means you are saving money by using one mask 60 times.
Disposable masks are thrown on beaches, floors, and in many other places that can cause contamination. While reusable face masks can be immediately put in a pouch after use to avoid contamination.
Reusable face masks come with flexible fitting and are easy to adjust. Through this mask, people can easily carry out their work.
12 Eco-friendly & Sustainable face masks on amazon
Are you in search of sustainable and eco-friendly face masks? If yes, then head towards Amazon, as it has a huge number of reusable face masks that prevent the spreading of disease. Purchase the best reusable face masks from Amazon while they are in stock.
1. Ceae 100% organic cotton face mask
Ceae 100% Organic Cotton 3ply face mask V2 (10pcs pack)

Our masks are super washable and reusable, and we have tested them for all the below parameters, which are normally only used as testing standards for medial grade and respirator class masks


Our masks come with a full length concealed nose bridge to achieve a very secure fit over your nose and face


Bacterial filtration efficiency (BFE) / particle filtration efficiency (PFE) / breathability-different pressure / flammability / splash resistance / appearance after wash


High quality, protection face masks are made from 2 layers of compact 100% organic, eco-friendly cotton fabric. The 3rd or the middle layer is made of a high-quality, melt blown filter, certified at - 98.3% bacterial filtration efficiency

Super reusable and washable masks and successfully gone through all tests. This reusable mask securely covers the face and nose and has the capability of bacterial filtration.
Designed with high quality along with two compact layers of organic cotton. It can kill 99.4% of bacteria and is attached to elastic loops.
2. BSD organics safety face mask
The color of the mask is plain white and is designed with pure cotton fabric. To offer a properly fitting mask includes pleats on the outside and inside surface. Elastic loops are connected to masks for quick put up and protect yourself from various illnesses.
A suitable face mask to wear while traveling, riding a bike, gardening, etc. Apart from these benefits, it has become a fashion, as it is more attractive than any other mask.
3. Kawach mask | Kawach Mask by IIT Delhi Startup
Sale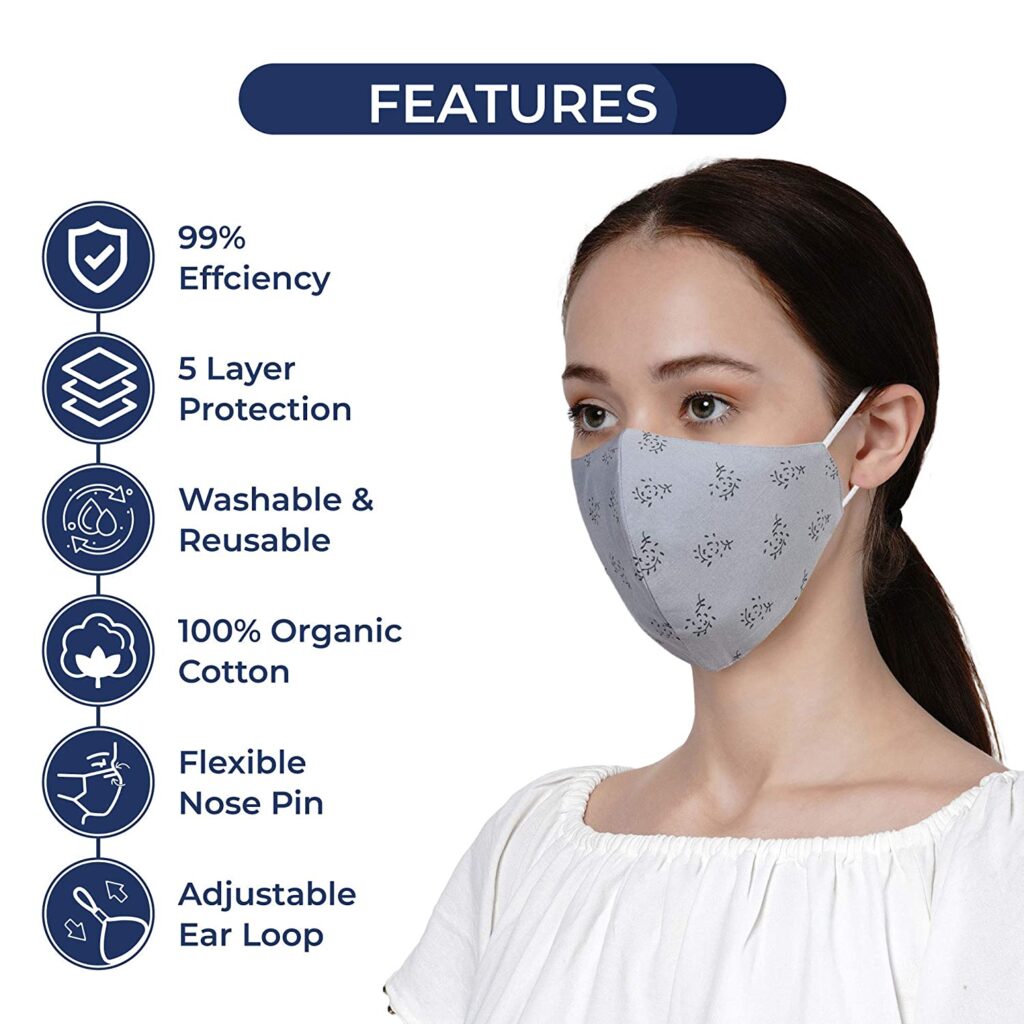 Highly adjustable mask with different shapes and sizes for varying age groups and for covering the maximum part of your face. Offers protection from harmful pollutants, smog, dust, and many other things. Highly comfortable and designed with pure cotton that gives a soft touch to the skin and is easy to put on the face for a longer duration.
It had the property of reversibility i.e. it can be worn from both sides. Besides being comfortable it is fashionable that gives your personality a good look. It includes a multilayer and has 99% filtration efficiency.
4. Pangolin leicht face mask
Highly comfortable and washable and the mask is treated with health guard technology. Filter material has undergone various tests to check blockage of bacteria, pollen, and many allergens. Can be reused over 100 times to avoid contamination. Feels light on my face. Quickly avail the mask from Amazon at a reasonable price.
5. Toodii spandex reusable face mask
Sale
Toodii Unisex Spandex Reusable Face Mask for Adult (Multicolour, Pack of 3, Without Valve)
❤️100% Brand new and high quality safety particle cover home 3 Layers,very thick,outer layers are made from high grade cotton,middle layer used activated carbon material,anti-dust,anti-poison,anti-odor; Washable and reusable
❤️Ergonomic cut on nose detial and ear loop adjustable buckle for closely fit; High elastic Ear Loop mouth-mouth covering is wide enough for cover nose,mouth and face,very comfort to wear and effortless breathable
❤️Stylish solid mouth coverings are ideal for dust, s, allergies, smoke, pollution, ash, pollen, crafts, gardening, travel, anonymity,suitable for household,,public places,etc.
❤️A perfect birthday/Christmas gift. One size for most adult men or women
Brand new product of reusable face masks with high-quality safety. Includes 3 layers that are thick enough. The outer layer is designed with pure cotton, the middle layer is made up of activated carbon material. It keeps the person away from dust and poison. Offers comfort and effortless breathing to the person.
6. Karps pure cotton reusable cloth face mask
No products found.
A highly washable and reusable mask along with a stylish look. It includes three layers of pure cotton in which the middle layer is used to filter fabric. These eco-friendly face masks can cover the face from nose to chin comfortably. The flexibility of the mask ensures that it can fit all sizes of faces. Goes well with your ethnic look, office look, etc., and protects you from several illnesses.
7. Sanchana ayurvedic and aromatherapy vetiver face mask
Sale
This sustainable face mask offers an aroma and protects people from dust and microorganisms. The vetiver of the mask acts as a natural air purifier and enhances immunity. Apart from this, this mask helps in relieving stress and fatigue and is an antioxidant.
Not only this, but it also has antifungal and antibacterial properties. Designed with pure cotton to make your body cool. So many benefits! It is surely a grabbing product.
8. Agasti silk satin face mask
Sale
AGASTI soft elastic silk-satin face mask for women and men (pack of 3)
Lightweight and breathable. Designed and cut on an angle to follow and fit the natural contours of the face for snug comfort. two elastic hoops to fit comfortably over the ears
We do not recommend bleach. Wash your mask after every outing.
We suggest washing your mask prior to first use.
2 SIDE USABLE – This face mask for girls is 2 side usable COMFORTABLE HOSIERY EARLOOPS FOR BEST FITTING!
A reusable and washable face mask designed with silk fabric acts as a strong barrier along with proper face covering. The design of the mask makes it comfortable and longer to wear. The fabric of the mask is breathable and soft. You can use it from both sides.
9. Masq by Q-one blossom face mask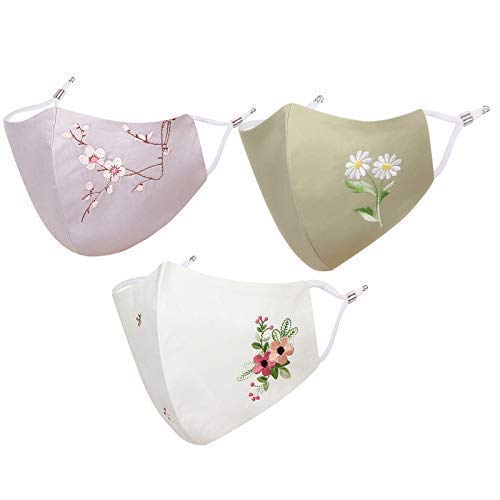 Offers four-layer protection – the first layer made up of cotton fabric, the second layer made up of nonwoven interlinking with the top layer, the third layer made up of antibacterial material, and the fourth layer with pure cotton. Highly adjustable ear loops and fashionable.
10. Ruchika fabs face mask
Sale
RUCHIKA FABS Hand Block Printed Reusable 100% Cotton Cloth Face Mask - Pack of 5 (Mixed Print and Multicolours) Images are Representative
Pack of 5 - cloth mask with assorted colours and prints - images are representative.
Reusable face masks: made of 100% cotton, non-toxic, non-irritating, soft and comfortable. Note that some masks have liquid ammonia finish, which give them a silky feel.
It's a reusable & washable and breathable masks for lasting comfort.
UTILITY: This mask is not intended for medical use. The dust mask protects the skin from pollution, dust, sun, etc. You can wear this while outdoors, under helmet while riding, or wear this at office, workplace, home, public places etc. to prevent yourself from dust and pollution. Foldable and easily fits inside pocket when not in use.
This face mask is designed with pure cotton that is soft, breathable, and comfortable to use. Comes in varying sizes for every age group. Highly adjustable and reusable.
11. Jockey unisex's cotton face mask
Sale
Consist of seven-layered filtration systems for protection, and have 97% bacterial filtration efficiency. Can be used till 30 washes and enhances breathing.
12. Touchstone Indian heritage face mask
Touchstone Indian Heritage Fabric filter pocket nose bridge double layer anti-pollution smog smoke cold & cough protective cotton face mask reusable washable for men, women (Pack of 3). Blue White
#TOUCHSTONE FABRIC MASKS - Search on this keyword in amazon for the largest and most gorgeous collection of handcrafted fabric masks from the rural artisans of India. Be part of the rich textile heritage of India with its traditional weaves, prints and embroidery. New designs every day. Limited Edition Lots. Buy it now, as it may not be available later.
Pack of 3. Own a piece of Indian Heritage. Fine Cotton Face Masks in a Rectangular Pleated Style. Light cotton fabric for breathability, specially in summer. The fabric is hand printed in Indian heritage motifs. With a pocket to insert a filter (filter not included). Nose bridge/ wire/ pin to prevent slipping. Mask 1- Gorgeous Mughal Indigo Blue Floral Mask 2- Art Nouveau Floral in Blue and White Mask 3- Mughal Geometric white on white
These Eco Friendly Biodegradable anti-pollution, smog, smoke, cold & cough protective masks have been specially designed to fit snugly with a flexible nose wire/bridge/ pin, to help anchor the mask. There is also a pocket in which you can insert your own filter for additional 3 layer protection, and change it whenever you want. The stretch ear loops are very gentle on your ears. You can wear it the whole day with comfort, while being protected by the double layer of densely woven cotton.
FACE MASK SPECIFICATIONS: Size: Mask 7.75"x6.5", 7.25"x6.5", 7.75"x6.5" inches. Material: Cotton
These types of masks you will not find anywhere as they are in much demand. Its property of adjusting makes it comfortable to wear and includes multilayer fabric. Are very flexible so that it can cover your face properly. Is biodegradable and eco-friendly and is soft. Purchase it now from Amazon as it can go out of stock.
Conclusion
Eco-friendly and sustainable face masks act as a great option to save the environment from contamination. Besides this, it also protects people from various illnesses. Make sure to use reusable masks just for others' benefit. Choose from the list of reusable face masks and start using them before any mishap happens.
Frequently Asked Questions
Q1. Can you reuse a cloth face mask?
Yes, it is easy to reuse a cloth face mask several times. It also doesn't cause any harm to the environment and is easy to use. Cloth face masks are handmade so they can be taken into use again and again.
Q2. From where you can buy a sustainable face mask?
Sustainable face masks enhance breathing, protect from various illnesses, and also stop contamination. If you desire to buy these face masks then you can purchase them either online or from shops.
Q3. What brands are making sustainable face masks
Wearing masks in public places can protect you from several illnesses. Thanks to various brands that are designing affordable reusable face masks. They are:-
1. Etsy
2. Hackwith design house
3. Christy dawn
4. Avocado
Q4. How to reduce face masks pollution
If face masks are not disposed of properly then they can cause serious harm. To reduce it, you have to stop throwing face masks on land, at sea. Make sure to make less use of disposable face masks.
Q5. What kind of facemasks is recommended for covid-19
As the world is suffering from a pandemic, it is recommended to wear face masks for safety. During a pandemic wear a mask that has two layers of fabric and it should be able to cover your mouth and nose properly.
More Articles: