Going green has become a trend and a lifestyle choice that a huge number of people are adopting now. In many countries usage of various eco-friendly products is at a hike. If you are choosing to live an eco-friendly lifestyle.
It is awesome! Right
From home decor to the kitchen, from beauty products to electronics, numerous products can change your life into eco-friendly life. And to make it easy for you.
In recent years, the whole world is becoming alert for the environment. However, there is more need to put efforts into saving the environment from the harmful effects of plastic and many other things.
Although various alternatives are implemented in daily lives to adopt eco-friendly things, it becomes interesting to look at some products that have been in use for decades. Of course, there are various Eco-Friendly Traditional Products that you have grown up using.
So, here we will discuss 9 wonderful eco-friendly traditional products India has been using for years. These products have described people about sustainable living ways.
According to a study, it is estimated that Delhi alone produces 680 tonnes of plastic every single day, and only 30% of this waste is recycled. A great cause of harm to the environment! So, to avoid this many companies have decided to opt for eco-friendly means to serve customers.
Eco-Friendly Traditional Products India Using For Years
Here is a list of various Eco-friendly traditional products that can make your life environment friendly and enjoyable
1. Khullad/kulhar
Sale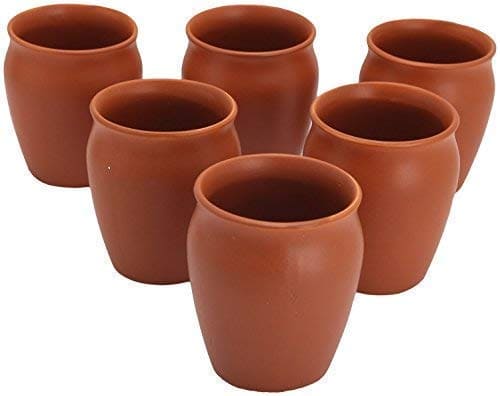 Kulhars are small cups made up of clay and are considered to be the best eco-friendly items that lost their limelight nowadays due to cheap plastic cups. Drinking tea in kulhars seems to have been a tradition for many centuries, and it is considered that these kulhars have been in use for 5,000 years in India. Kulhars, made of clay from the Ganges river, are crushed when used.
Apart from serving tea, it is also used to serve ice creams, hot milk, sweet curd of Bengal, and many other edibles.
To avoid the use of plastic, many restaurants have started to advertise clay pots like kulhars to grab the attention of many customers. Indian Railways has also decided to introduce kulhars or clay cups so that plastic usage can be lowered and also to help potters. Experience the taste of refreshment with a sip of tea in kulhars.
2. Bamboo baskets
Sale
Village Kraft Natural Hand Crafted Weaved Bamboo Fruit and Vegetable Basket Punnet Nub Pannier Mammock Tokri, Pack of 3, Beige Brown
Use for store Fruit & Vegetable,Eco-friendly, hand-woven and durable: this natural colored multi-utility hand-woven, eco-friendly, sustainable, wicker farmer's basket this multi-utility hand-woven, eco-friendly, sustainable, vintage style wicker basket is great for adding a touch of rustic rural charm to your home. These multi-purpose baskets are made from wicker, willow and other finish materials
Eco-Friendly,Home decor basket, outdoor picnic basket: it can be used to store knick-knacks or simply as a design piece to beautify your living space, kitchen or dining table. These baskets are very useful for outdoor picnics, hiking, camping and more it's beautifully shaped circular base makes it perfect for storing eggs, fruit and vegetables. It also makes for a delightful flower holder to brighten your kitchen or garden
Supreme quality,Perfect gift idea: this beautiful basket is the best functional gift idea. You can gift this multi-utility basket on occasions, weddings, birthdays, anniversaries . It makes a wonderful gift whether by itself or filled with chocolates
Supreme quality,Eco-friendly,Light Weight,Handcrafted by artisans with natural cane,
Vessels made up of bamboo-like plates, forks, bowls, spoons, are proven effective. But, bamboo baskets are the most effective and are a proper replacement for plastic. Apart from bamboo baskets, bamboo computer accessories are also efficient, eco-friendly. Bamboo baskets can be used for a long time and are easy to decompose.
Bamboo straws and bamboo chopsticks are very much famous, other bamboo items are also grabbing great attention in business.
3. Matki/Matka
Mitti Magic Brown Clay Kitchen Water Pot (8 L, Available in Random Prints and Floral Colours)
Material used: brown clay, weight: 3.5 kg approx, size: compact 8 ltrs, dimension : height 11 inches including lid and width 9.5 inches (white clay pot also available online in 8 ltrs)
Available in random prints and random floral colours : hand printed using water acralic's and leak proof flip tap (Height 11 inches and Width 9.5 Inches)
Clay being alkaline in nature helps in neutralizing the ph level of the water and giving us the natural cooling water
Other online products: kadai (1.5 lt), kadai (2.5 lt), open kadai (3.5 lt), haandi (1 lt, 2 lt and 2.5 lt), cooking dish (500ml, 1.5 lt), steaming pot (2 lt and 3.5 lt), cooking pot (2 lt and 3.5 lt), milk boiler (2 lt), jug (1 lt and 1.5 lt), water bottle (1 lt), cup and saucer, water and juice glasses sets,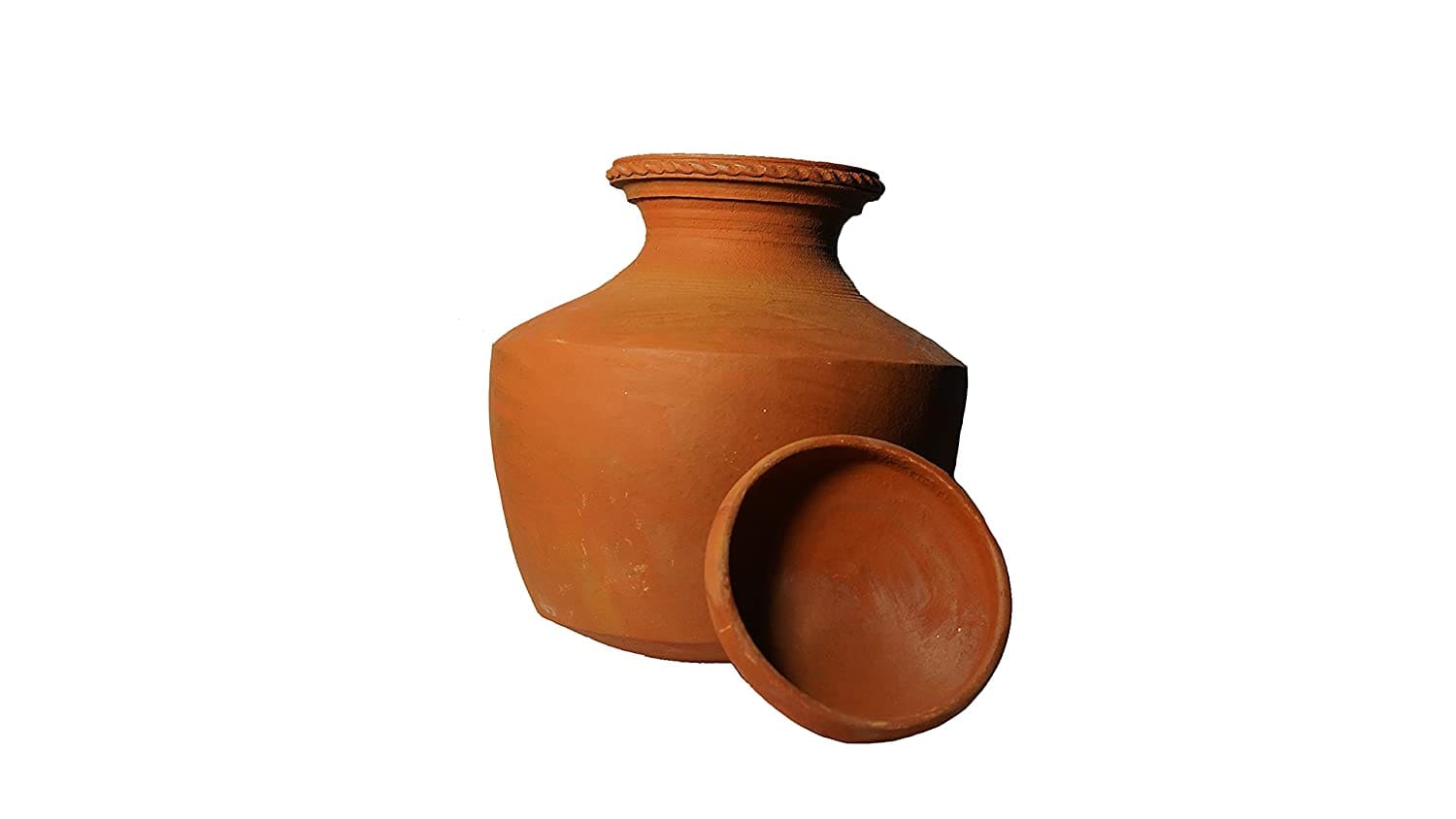 Matki Or Matka, an environmentally friendly water bottle made up of clay. During the scorching summers, it helps people to remain hydrated with its cool water, and this tradition has been used for ages. You can fill it easily, and the clay can add unique texture and flavor to drinking water.
A truly handmade water bottle and its use helps in reducing carbon footprint. To store water in these clay Matka is a better option than plastic bottles. But, it should be cleaned properly and frequently. In villages, people's thirst gets vanished by drinking matka water.
4. Sal leaves plates
Sale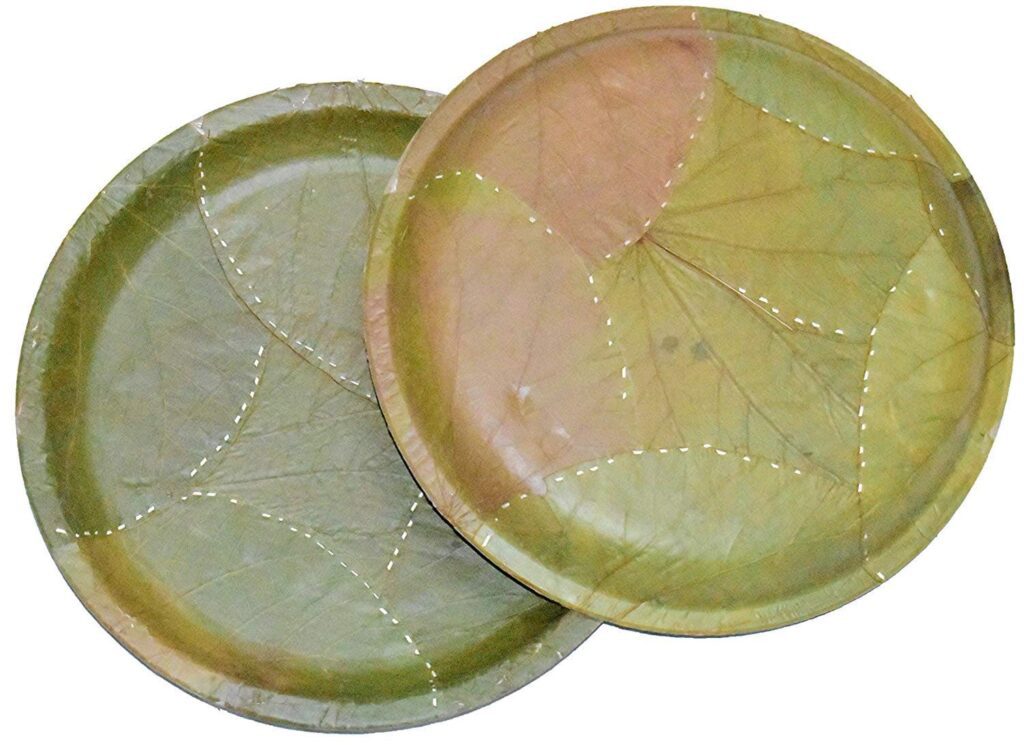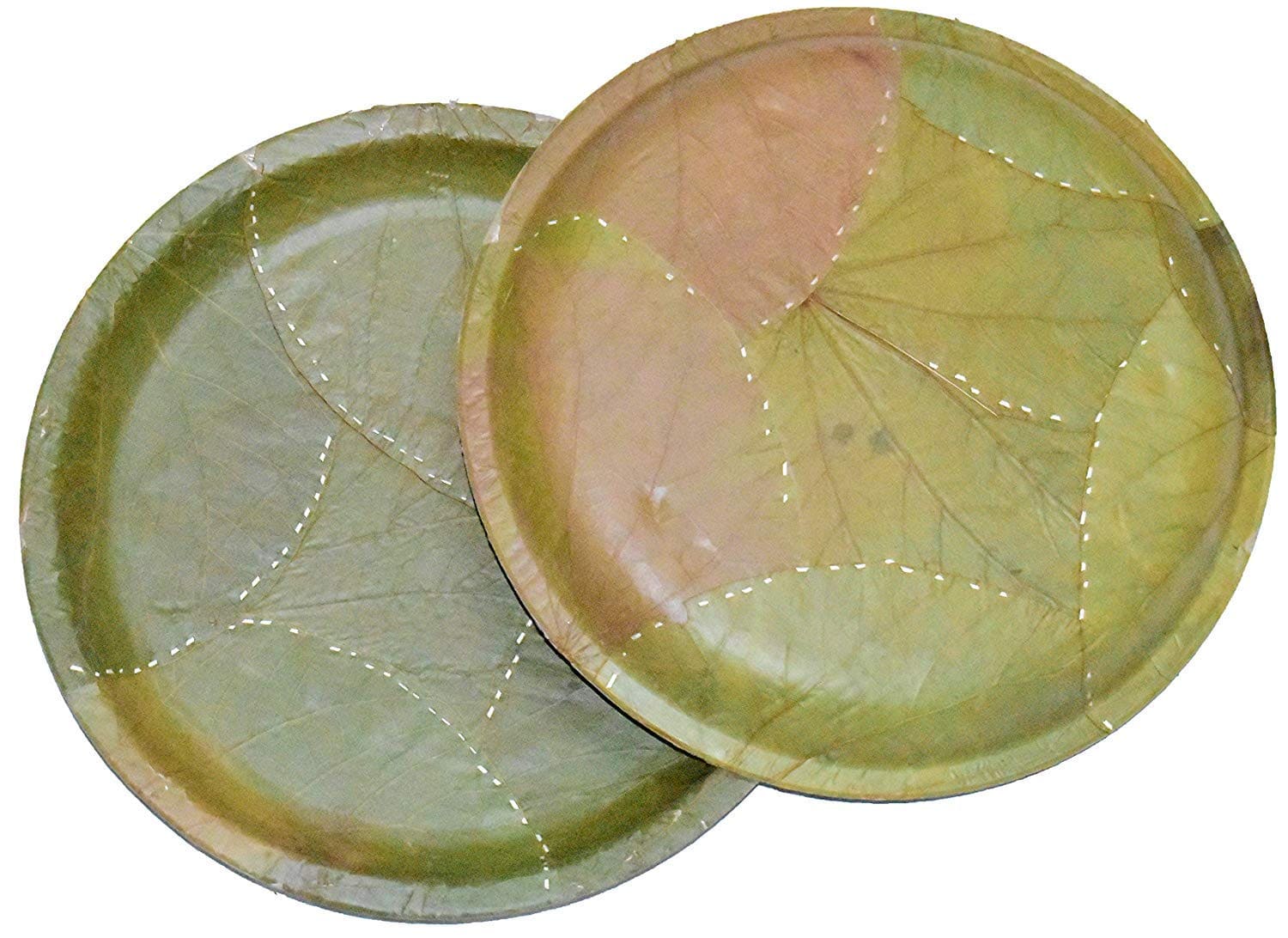 If you have ever got a chance to eat delicious food in Kolkata, have you ever thought of what those small brown plates are made up of? These plates are designed by Sal leaves, also known as pattal Or patravali. Can be designed in various shapes, but mostly have a circular shape and are stitched with eight leaves along with small wooden sticks.
Food served in sal leaves plates is a traditional practice that has been happening for centuries. It acts as pride in every gathering and function. These sal leaves plates have become famous in various unexpected areas and are a very sustainable product with antibacterial properties.
Just a few years back, a tribal group belonging to Odisha, won a deal of supplying around 2 million bowls and plates made from sal leaves to a German importer, as these plates are in increasing demand in many luxury restaurants in Europe.
5. Thela or jute bags
Sale
Jute bags are also known as thelas, which are available in different sizes and useful in carrying groceries and other items. Apart from this, large-sized jute thelas are used in businesses for transportation purposes to various destinations.
Designed by jute ropes weaving, it is suitable to accommodate many items and popular for its strength and protection of the products packed.
Jute bags are in use for many years and have gone through various makeovers and fashionable looks and make them the most popular choice of accessories. It can still be seen in various godowns and granaries.
6. Banana leaves
Sale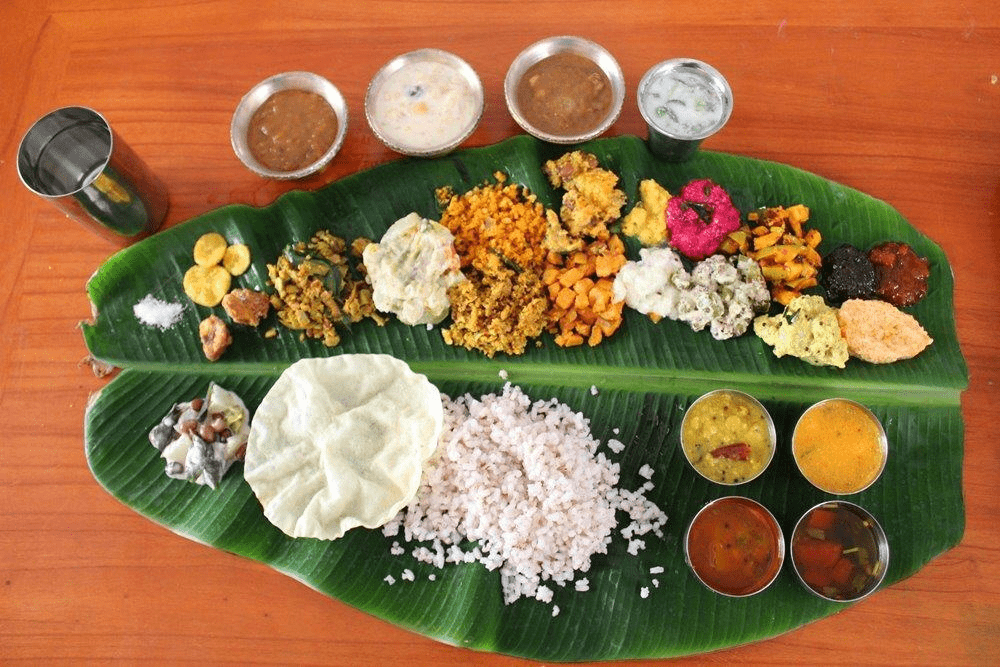 Eating delicious food on a banana leaf is another feeling. Eating on a banana leaf is a traditional practice that has been followed for ages. They are easily accessible and add a special aroma and flavor to the food.
In southern India, the usage of banana leaves is considered a better option than using a plate. Besides serving food, banana leaves are used as a source of writing surface in various South East Asian countries.
Not only in India but also in other countries like Singapore, Malaysia, etc, banana leaves are used as a serving plate. Banana leaves act as a good alternative to plastics. Many companies have started to produce eco-friendly and sustainable face masks designed by banana leaves.
7. Thonga
Sale
RANUR Food Grade Square Bottom Paper Bags for Food Packing or Flat Bottom Carry Bags for Gifting Disposal Bags for Size 6 X 4 X 11.5 Inches Paper Bags 50
These are virgin Kraft food grade Food Packing Covers with Flat-bottom that's why these are the most convenient Food Delivery Bag, Food can directly be put into this Brown Paper bag and can be sealed with your stickers easily and quickly without any hassles, Our standard sized snack Brown Paper bags For Packing cover is mostly used for food wrapping and storing applications efficiently with high strength, It can be even be used to cook and refrigerate the food
While foil and plastic wrap seal out air, These snack packing bags or Shopping Bags for Grocery are specialized Delivery Bags that allows food to breathe which helps food to stay alive and fresh, This Brown Paper Lunch Bags are Perfect to pack lunch, kids would love the crisp feel and sturdiness of these bags which can stand alone and packed easily, Used to pack sandwich, chapati, chips, biscuits, dry cakes, dry lunch and more! Also used as party favor Paper bags small gifts, boutique
Best Kraft paper bags for packing it provides packaging solution and replacing plastic packing, Also, a perfect substitute for plastic polythene courier bags with cheap paper bags wholesale it has been banned in almost every state in India, There is no laminated poly liner so, they are only suitable for carrying only dry food, They are so trendy to hold; they can be used for holding your food delivery
Food safe and organic, it made of the finest virgin pulps, without any harmful waxes, bleached and unnatural chemicals or coating that might tamper with the food, Hygiene refers to condition and practice that helps to maintain health, They leave no chemical residue on food item unlike plastic or foil wrapping thus making them safe to use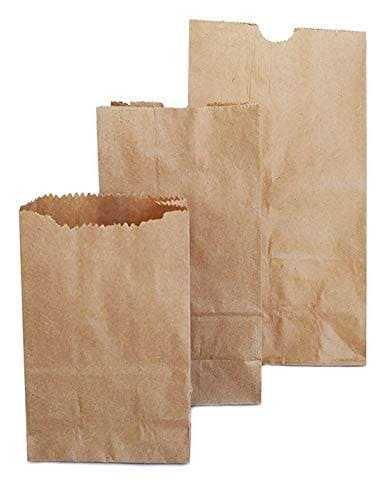 Brown paper bags and newspapers, popularly known as thongas, have been in use for many years. Thongas are taken in use to fill the famous snack "jhaal muri" (a mixture of spicy rice), and are still in use and acts as a sustainable alternative for plastics. These used to be a symbol of funfairs a few years back.
In today's era also, tourists are seen grabbing a thonga and experiencing the taste of various edible items ranging from dry sweets to popcorn. Recycle and decomposition rate makes thongas a better and eco-friendly option as compared to plastic items.
8. Kalash/Deepak
Sale
Village Kraft Smooth Finish Handcrafted Earthen Mitti Mud Matti Mati unpolished Kalash for Puja,Water Storage,with Designer Diya,1 L 1 Piece (Brick Red)
Package contains-1 Kalash,1Kalash plate,1 big Diya,2 small diyas,2 kunda plates for growing wheat ,joe seeds for puja
What Is A Deep Burned Clay Pot? Deep Burned Clay Pots Are Made Using A Very Old Traditional Pottery Technique. A Normal Red Clay Pot Is Kilned Once, And Are Not Exposed To Naked Flame. But Deep Burned Pots Are Kilned Two Times, For The Second Time, Potters Literally Burn The Pots Stacked Together With Wood And Hay At A Temperature Nearly 1200 Degree Celsius. This Will Make The Pots Very Strong And Durable. Deep Burned Pots Can Withstand Any Temperature And Last Long.
Products will change color and appearance over time as with all-natural unglazed terracotta. The color of the products might be a little different from the real product and size might be a little different, as all products are handmade.
Hand Made & Crafted by hand on the wheel not molded or machine made, hence there may be fingerprints of the craftsman or round circular marks inside the product, slightly rough & Products may change color and appearance over time as with all-natural unglazed terracotta or Black pottery. The color of the products might be a little different from the real product and the size might be a little different, as all products are handmade.
Kalash Or Deepak, a clay material that has been used in India for centuries. People's emotions are connected with it and it depicts devotion to God. Used in all Indian festivals and during happy moments.
They are easy to use and don't cause any harm to the environment. It is reusable and reduces the chances of waste cluttering. A perfect option to light up the house during Diwali rather than LED lights. However, it looks simple and attractive.
9. Mudda Chair/stool
Sale
GUNEE Ecofriendly Handicraft Cane Bar Stool Mudda Chair for Indoor/Outdoor Furnishings - 1 PC(Multicolor, Bamboo)
SPCIFICATIONS : Material Cane (wood), Height: 10 Inches | Color: Natural Brown | Package Content: 1 Stool
ECO-FRIENDLY MATERIAL: Whole chair is made of Cane, Cane is the nature material. We use the high quality Cane to make furniture.
PORTABLE & MULTI-FUNCTION: Small body, simply design and move freely. Perfect for playing games or enjoy your tea time on the floor. Fit with low table and console table, you can sit on it do your work. It's suitable for living room, outdoor, garden, bay window or balcony etc.
LOW CHAIR FIT: You can put it in the balcony and enjoy the sunshine. It also fit the child, you can use as feed chair, also you can use as child chair, they can sit in to do some homework in front of the coffee table and console table. Every edge has been smoothed to protect your family from hurt.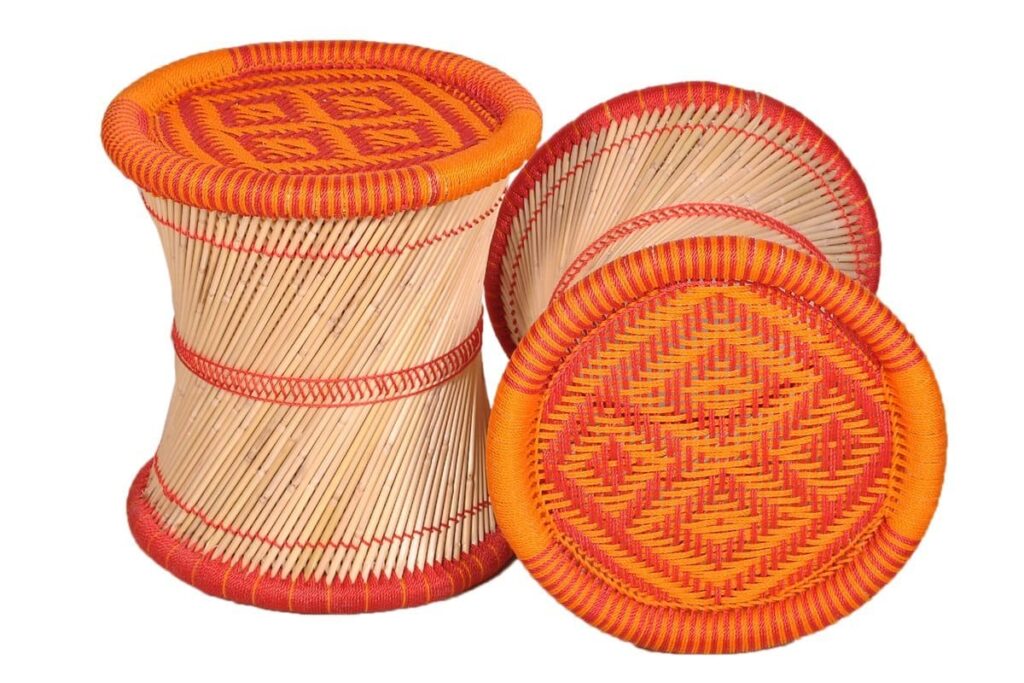 Mudda, a traditional round chair popularly known by other names also like – stool, rattan, etc. It is very light in weight and transportable to any place. Designed with high quality with a perfect finish, and is easy to clean with a damp cloth. Designed with traditional style, and change in texture, color change, and wood adds to the beauty and charm of the product.
Mudda, a sustainable and eco-friendly product that is also in use for so many years. Traditional people used mudda to a large extent to avoid environmental pollution. Mudda seems to be an attractive masterpiece and one interesting thing is that it is handmade and artists are experts in this.
Conclusion
So, here is a list of the 9 sustainable & Eco-Friendly Traditional Products that are in use in India for many years, and it is suggested to make use of these products further for future generations.
Stop using products that cause harm to the environment and also encourage others to use sustainable products. Taking baby steps can make huge changes. Start by grabbing the ideas that are already in use and search for newer and better ideas to go green. Many restaurants are using eco-friendly products, so why can't we?
Frequently Asked Questions
Q1. How do you buy environmentally friendly stuff?
As the eco-friendly word is everywhere and the reusable items market is expanding, it becomes easy to purchase them from online stores. First of all, you need to figure out if the product is eco-friendly or not, then proceed further. And also search for labels from trusted organizations.
Q2. How can we make our environment eco-friendly?
Whether you have decided to go green or to save money, every step taken to eco-friendly life leads to a sustainable life and helps in saving the planet. There are various ideas to make the environment eco-friendly and they are:-
1. Reduction in consumption of energy.
2. Turn towards renewable resources.
3. Try not to waste food.
4. Recycle every item.
5. Make less use of plastic.
Q3. What does eco stand for?
Eco, a short form of ecology, shows the relationship between living beings and the environment. The term depicts positive effects on the surroundings. It is considered to create a proper balance in nature.
Q4. Is a green product always better?
Of course, green products are always a better option, as they are cost-effective and have a longer duration as compared to conventional products. Green products greatly help in improving health and as they are deprived of various chemical and harmful substances, they improve both mental and physical health.
More Articles: