India has crores of population. Many of this populace travel daily from one place to another either by using their own vehicles or public or private transport services. Many of these transport services use petrol and diesel as fuel, which will release gases after combustion.
These gases in higher amounts can harm the environment and can be a cause of the greenhouse effect and other slow-eating problems for us. We have already seen the effect of pollution in our capital city. That's why it is high time we stop using fuel vehicles as much as possible and shift to electronic vehicles. 
Electronic Vehicles, in shortcut, EVs are slowly expanding in India as most people are taking a step forward to protect the environment. By shifting to electronic vehicles, you can eliminate the emission of carbon monoxide, nitrogen oxides, and hydrocarbons and thus reduce your carbon footprint.
What are Electronic Vehicles?
As the name suggested, electric vehicles use electric power to run. Instead of a gasoline engine, an electric motor provides the propulsion for an electric vehicle. As the driver presses down on an accelerator pedal, the controller releases a certain amount of power to the electric motor.
The electric vehicle's batteries provide power and can be charged using regular household electricity or any electric vehicle charging station in India.
In these charging stations, you can easily charge them within a few minutes and continue your journey. There are many EV charging stations in India, especially in major cities. When you go to any tourism destination, you can spot these charging stations on the way, charge your vehicle's battery, and continue your traveling. 
Why should we use electronic vehicles?
Whether it's a typical car or a two-wheeler, usage of non-renewable energy resources not only creates pollution but also the burning of fossil fuels causes climate change. We are already facing heat waves because of this.
And also, if we continue to use these fuels, then scientists estimate that all the fossil fuels will end up within 50 years. And if they end like that, we will not have any fossil fuel left for other purposes. That's why the usage of electronic vehicles is becoming necessary.
As electronic vehicles use electricity and can be produced from renewable energy resources like wind, hydro, and solar energy, there is almost no negative impact on the climate around us compared to using fossil fuels.
Along with electric vehicles, experts suggest that we need to introduce sustainable and eco-friendly products and methods to give a better environment for future generations. 
Benefits of Electronic vehicles
The main benefit of an EV is it is eco-friendly.
Its running cost is low compared to typical vehicles.
No emission of any gases into the air.
The maintenance cost of an EV is also low.
Road tax and registration fees are less for EVs than for petrol and diesel vehicles.
These reduce noise pollution as they don't produce sound while driving. You can enjoy a peaceful ride.
With no gears, they are easy to drive.
You can charge it in the convenience of your home or at any one of the EV charging stations in India. Using an EV will reduce greenhouse emissions.
EV Charging Stations Companies in India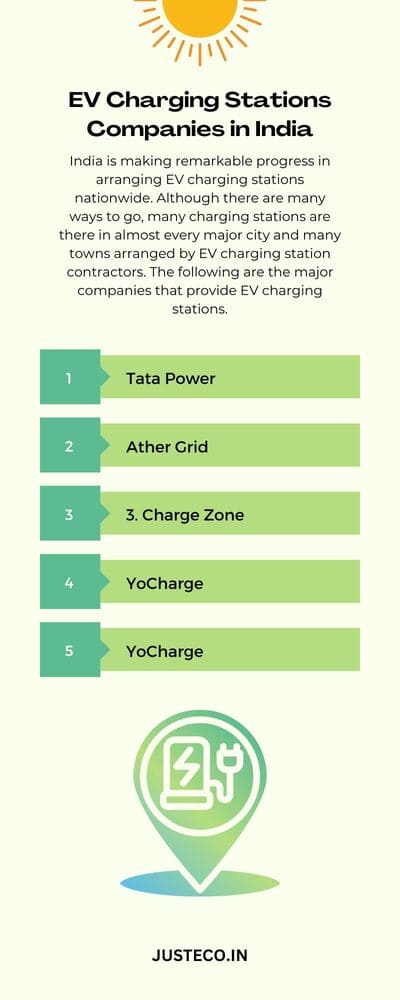 India is making remarkable progress in arranging EV charging stations nationwide. Although there are many ways to go, many charging stations are there in almost every major city and many towns arranged by EV charging station contractors. The following are the major companies that provide EV charging stations.
As part of the "National electric mobility program" initiated by the Indian government, Tata Power installed the country's first network of charging stations for electric vehicles in Mumbai, India's financial center.
Offering clients in Mumbai, Delhi, and Hyderabad ready access to energy-efficient alternatives, the specialized EV charging solutions also serve as the infrastructural backbone for a growing EV ecosystem.
This is one of the best EV charging stations companies in India and offers several charging types and quality. The company provides charging station services for a variety of electric vehicle (EV) applications, including EV fleet charging services, charging in industrial spaces, and charging at the workplace.
In 2013, in Bengaluru, Ather energy was established. In India, they are well known for creating the first smart scooter, the Ather 450. Currently, 18 cities in India are serviced by the Ather charging network, all of which are equipped with DC fast charging ports.
Ather energy, a producer of electric two-wheelers that also manufactures electric scooters with model numbers 450 Plus and 450X, has set up more than one thousand quick-charging stations called Ather Grids in eighty different locations in India. By the end of 2023, the EV charging station contractors in Ather intend to install over 2,500 fast-charging grids.
This company is one of the largest companies India has when it comes to EV charging stations. This company has more than 2500 charging points all across the nation and is on a mission to establish more. Depending on your EV's battery size, you can fully charge your vehicle within half an hour through this company's rapid charging.
You can find Statiq EV charging zones in many malls, restaurants, workplaces, and hotels, and you can even pre-book your slot to avoid waiting. This company claims they have more than 7000 semi-public, public, and captive chargers across India. By the end of 2023, the company aims to establish 20,000 EV charging stations nationally.
With an expansive proprietary and third-party network, YoCharge has quickly become one of India's leading electric vehicle charging station providers. The company installs, runs, and maintains charging stations on properties owned by hotels, petrol stations, midways, shops, restaurants, etc.
These charging stations will be powered by the renewable energy company's solar power plants. They provide 7KW to ultrafast 360 KW charging stations. These stations charge two-wheelers, vehicles, and buses.
Along with these companies, many companies in our country, like Magenta, Fortum charge &drive, Amara raja, Jio-BP, Rimone, Delta Electronics, etc., provide EV charging stations. With the encouragement of the government, many startup companies are entering this field to do green business.
Conclusion
Nowadays, every product and every method has a way of becoming eco-friendly. From Organic toothbrushes to reusable rockets, everything can be used to maintain a proper and pollution-free environment. There are many startup companies working day and night to clean this environment.
It is our minimum responsibility to contribute our own way. Using Electronic vehicles is one among them. With the availability of electric vehicle charging stations in India, you can take a stand and shift to electric vehicles soon. So hurry up, and use an EV soon.