With the increasing demand for housing and an increment in climate change, it is very essential to lower energy consumption and to select proper eco-friendly house building materials. Eco-friendly means don't cause harm to surroundings, whether in the disposal or production. After all, the importance of environmental protection is a superior priority.
The usage of eco-friendly products proves to be beneficial for sustainable life, and using green building materials lowers carbon emissions, saves energy, and creates an attractive home. Saving energy will save money.
Go through the article and discover various Eco-friendly house building materials and gain knowledge on tips to live a sustainable life. Get to know about Eco-friendly homes.
What is a green building product or material?
Green building is a type of construction that makes use of eco-friendly materials. Structures made up of green buildings look fabulous and contain design benefits like safety measures.
Green building materials are the materials that help to achieve sustainability by lowering harm to the environment. It helps people to understand the importance of eco-friendly products and creates positive impacts on nature. Green building helps in maintaining the quality of life and also preserves natural resources.
List of green building materials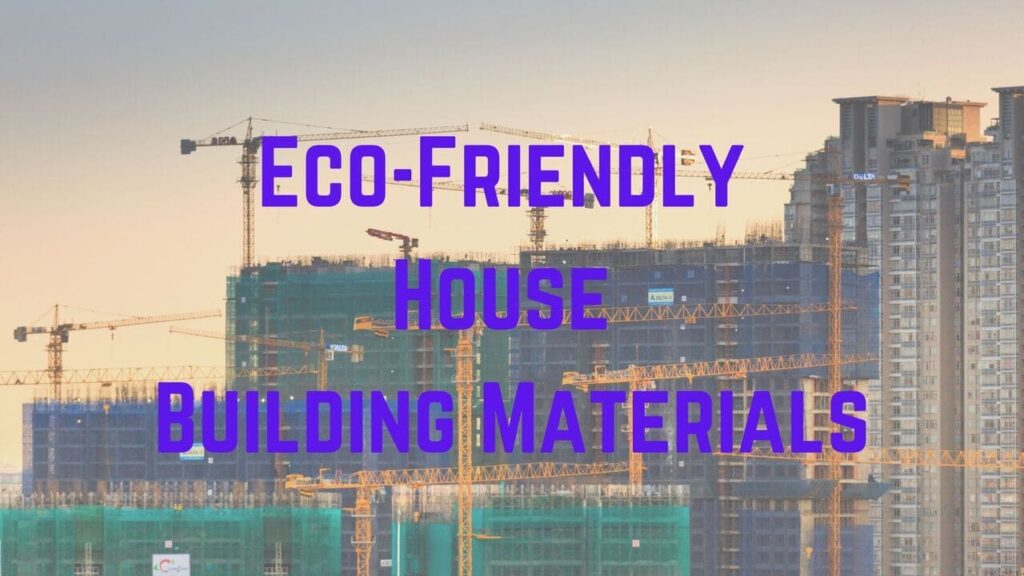 Various eco-friendly house building materials have come up in the market to lower negativity from the environment like the construction of buildings. Here is the list of green building materials that can be used in construction.
Straw Bales
Straw bales, a type of green material that is used for framing material for building purposes as it owns the best insulating properties. Another feature of this material is that it is a soundproof material.
Straw bale's non-load-bearing walls are used for filling material between beams, framework, and columns.
Since air can't pass through straw bales, it has fire resistance properties.
It does not require any further processing and is very much affordable.
With this material, buildings will offer good properties for the varying climate.
Grasscrete
Grasscrete, a unique method of dispersing walkways, sidewalks, driveways, and concrete flooring.
Used as an eco-friendly house building material that permits flora or grass to flourish.
Apart from lowering concrete usage, it also helps in improving drainage and stormwater absorption.
It helps very much in designing natural biofilters to get rid of harmful pollutants.
Rammed Earth
A type of technology that is used from ancient civilization and lasts for a longer time. It seems to be an affordable and popular solution for creating walls and floors.
Home buildings designed from rammed earth are safer and lower the labor work.
Floors and walls made up of rammed earth are used as thermal storage that allows the sun to warm them during the day and cooler in the evenings.
It offers many benefits like noise and temperature control, durability, and strength. Offers an ambient look to the green building.
HempCrete
It is a concrete material that is designed from woody inner fibers of hemp plants. Fibers are both light and strong and lower the energy that is used in the transportation of blocks.
Acts as one of the best green building materials as it is sturdy has good thermal insulation properties and is also fire resistant.
The greatest property of this material is that it is CO2 negative and a renewable source.
This material is pest-resistant and mold-free and offers a breathtaking natural look to the structure.
Bamboo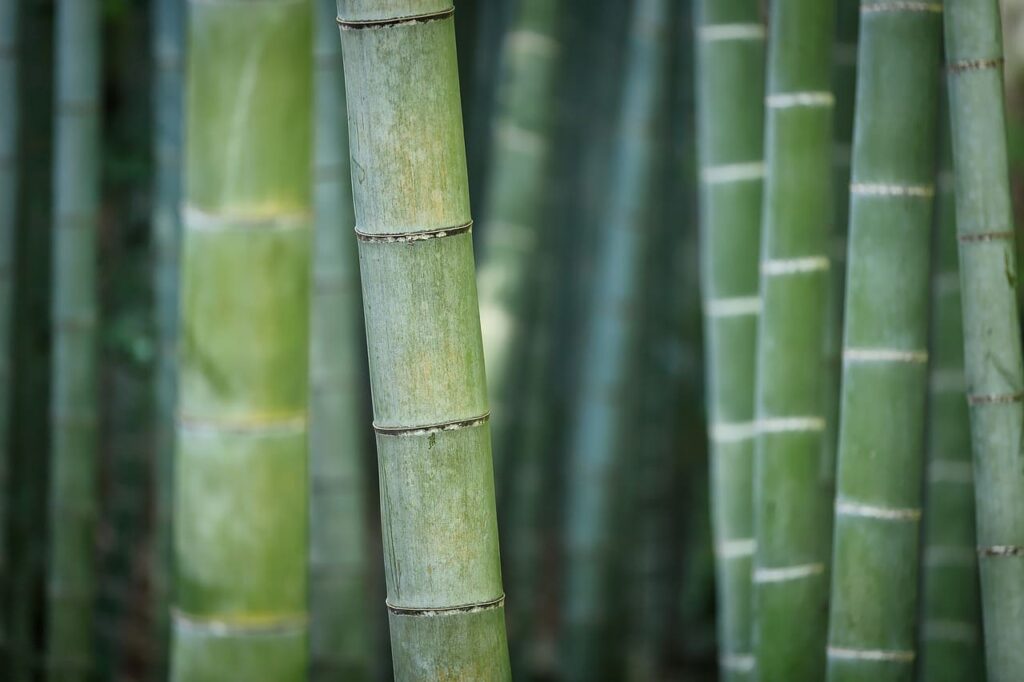 Bamboo, a popular, durable, and multipurpose material that is used in construction work.
Bamboo trees grow at a fast pace in every climate, so it is best for economic purposes. Mainly used in constructing floors, walls, and frames.
Offers a lavishing appearance to the building or structures.
Bamboo material is gaining fame in green buildings as it produces more oxygen and absorbs less carbon dioxide.
Due to its easy harvesting and growing criteria, it becomes the most cost-effective material.
Recyclable Plastic
If plastic is recycled properly, then there would be no harmful effects of plastic, just like in green buildings. This recycled plastic is used up to make concrete that properly depicts the importance of waste segregation.
It helps in lowering greenhouse gas emissions and is also used in making picnic tables, fences, and other things.
Recycled or reused plastic is used in making up roofs, floors, cable pipes, and PVC-related items.
They are the most energy-efficient material, their lifespan is 50 years.
Wood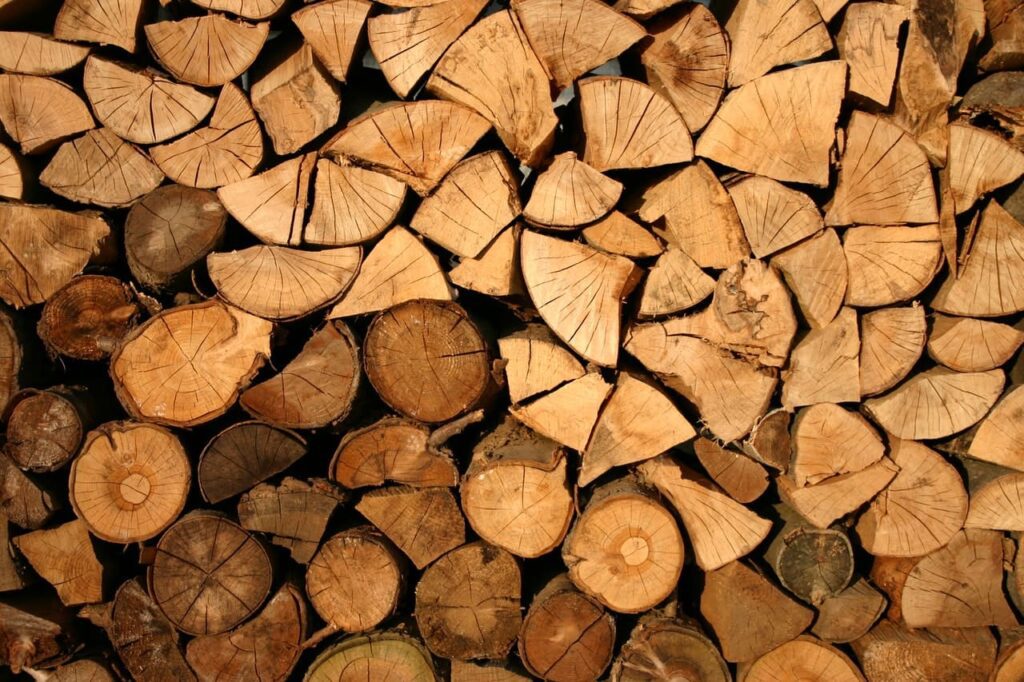 Wood is the most durable eco-friendly house building material that can stay for a long time and offers an aesthetic look to the building.
Wood, the most popular material used in construction. Apart from its usage in green buildings, it is used in making certain products like water bottles, tables, wardrobes, wooden sunglasses, and more.
Wood is easy to use, offers a pleasing environment, and inscribes a feeling of nature indoors. It improves the well-being of an individual.
Used in making doors, walls, and wooden sunglasses, etc. Cordwood is a type of wood that can be taken as a building material as it is strong, eco-friendly, and gives a charming appearance.
Mycelium
A natural green building material that consists of the root structure of mushrooms and fungi. It creates strong and lightweight bricks for construction.
With this material, a building becomes sturdy and unique with strong features.
The mycelium-based building can withstand high temperatures and makes it insulation-free.
It lowers the requirement of continuous high-priced repairs.
Ferrock
A type of new eco-friendly house building material and make use of recycled materials.
It designs a concrete-like structure material that makes it stronger than concrete. A major advantage of this material is that it absorbs and traps the carbon dioxide.
It is assumed that ferrock is more sustainable to weather than concrete and used in making pathways, driveways, etc.
Structures made up of this material are long-lasting and don't require any replacement and repairs.
AshCrete
Made up of 97% of recycled material, it is an eco-friendly house building material that uses up fly ash rather than cement, and an alternative to concrete.
It also includes borate and bottom ash that is cost-effective and reliable.
It has small pores that result in good strength from cement.
Timbercrete
Timbercrete, an interesting green building material created from a mixture of concrete and sawdust.
As it is lighter than concrete, it lowers transportation emissions and makes use of waste products.
It can be made in various shapes like bricks, blocks, etc.
It is also bushfire proof that permits less radiation and heat transfer. Its best advantage is that it is user-friendly.
Green building materials selection criteria
Due to an increase in environmental concern, the practice of eco-friendly house building materials is considered. Green building greatly helps in the environmental management system and leads to various benefits like using less water and energy, improvement in health, etc.
Nowadays, there is a lot of confusion in describing green building materials, so there is a need to have selection criteria for qualification.
Due to the tremendous increase in the construction industry, there is huge pressure on earth's natural resources like sand, wood, etc. So, building materials can lower this, and using this eco-friendly house building material is a good option to create an eco-friendly structure. So, here are the points that help in the selection of building materials.
Availability of materials
Locally available materials are considered as it minimizes the labor and energy spent in the construction of building material. Local materials save energy and transportation of resources towards the site.
Percentage of waste materials
Green building materials can be created with the help of recycled items or by using waste materials. The usage of waste materials greatly helps the economy and environment in several ways.
It helps in saving cost, energy, and essential resources. Waste materials that end in landfills are reused in various other products like fly ash, marble dust, waste glass, etc.
Usage of renewable sources
Materials that are created with renewable resources rather than non-renewable resources should be considered.
Earth's resources are depleting at a tremendous rate, the whole ecosystem is getting harmed due to the extraction of various raw materials. So, by using renewable resources like tidal, wind, solar, etc. this harm can be lessened.
Energy efficiency
Manufacturers can lower the energy loads that help in reducing the strain on natural resources.
Durability
Eco-friendly house building materials that are long-lasting and require less maintenance should be considered.
Water
Products or items that help in lowering water consumption in green buildings and also conserve water.
Non-toxic materials
Materials that emit harmful toxicants should not be preferred for green buildings. Instead of this, moisture-resistant products should be preferred as it lowers the risk of contaminants.
How to build a cheap eco-friendly house
Proper planning is the main point you should focus on to successfully design a green building.
To create an eco-friendly home start with just a few steps. You can move towards bigger changes to save more money. Save your planet and its resources by following some steps. So, if you are planning to design a green home or want to know how to do it. then adhere to the steps.
Replace your old windows with energy-efficient windows, as they can offer proper insulation.
Make sure to install a skylight as it offers natural light to seep into your home and also reduce your energy consumption.
Make use of sustainable flooring as it adds beauty and value to your home, so prefer to use bamboo, as it is durable and attractive.
Grow trees as it lowers the amount of energy that is required in cooling the house. Additionally, it also produces enough oxygen that is beneficial for human beings.
Remember to install cool roofs as it helps in reflecting sunlight rather than absorbing it and saves energy. It also extends roof life and is the best option for people who stay in hot climates, as it lowers the need for air conditioners.
Make use of durable sliding made up of cedar as it repels water and pests. They need less maintenance.
Conclusion
Various eco-friendly house-building materials add charm and value to your green home and lower the negative impact on the environment. This option is the best way to save the environment. Green buildings would not affect the climate and environment and would make use of renewable resources only to generate energy.
Frequently Asked Questions
Q1. How do you build an eco-friendly house?
During designing your home you want to make sure that it saves money as well as protects the environment. So, go for an eco-friendly house. For that, you need to install cool roofs, make use of recycled waste, make use of renewable resources, and plant trees so it looks natural and attractive.
Q2. What are the disadvantages of green building?
Apart from having advantages, there are some disadvantages also of green building. They are:-
The cost can be more than conventional buildings.
It can be complex and time-consuming.
Green building materials are not always available quickly.
Q3. What are the green building components?
The list of green buildings includes the following components – renewable energy, water efficiency, waste reduction, eco-friendly materials, sustainable growth, air quality, and no toxins.
Q4. Do green buildings save money?
Yes, green buildings are cost-effective and owners of these buildings can save around 30% on their water and energy bills. These eco-friendly buildings can lower the cost yearly. Owners of these buildings are saving around 20% low maintenance costs.
Q5. What is an eco-friendly house?
As suggested by the name, an eco-friendly house is an environmentally friendly house that causes less harm to the planet. Designed in such a way that it looks natural and is built up with technology and materials that help in lowering carbon emission and needs low energy consumption.
More Articles: