Over the past few years, the world has been going through some troubling times. It is the most crucial time to preserve the planet and its valuable resources with an uncertain future. This is why several global organizations are doing their best to provide sustainable life and seek environment-friendly alternatives.
Various eco-conscious people are becoming concerned about adverse effects occurring in the environment every single hour. Many resources are in the queue of getting exhausted, and several other harmful activities are responsible for harm, such as the harmful effects of plastic, smoke from chimneys, and much more. However, half of the people don't know about this dangerous situation just due to less knowledge.
You could also contribute to enhancing the environment's health, and it could be done from home initially so that future generations can experience a greener place.
All you need is awareness, strong willpower, and a big heart to switch over to eco-friendly alternatives. Let's start this change from your home, and there are various eco-friendly home appliances available. But, don't you have any idea? Then, this guide on eco-friendly appliances would prove beneficial for you.
19 eco-friendly home appliances
Change comes from home. Home appliances act as a game-changing innovation that helps people with daily chores and also saves time. However, these appliances might add up to environmental damage,
so you should switch over to environmentally friendly devices that reduce the risk of carbon footprint. And, using energy-efficient or environment-friendly appliances at home is a great way to fight against climate change. Continue reading to know about eco-friendly home appliances.
Washing dryer
A perfect option as an eco-friendly appliance as it saves water and energy. It ensures smooth and easy penetration into clothes.
The steam process rapidly heats the drum that lowers the power need and can wash 9 kg of clothes at a single time.
It includes excellent features for intensive washing and baby care and saves energy while clothes are ironing.
Bosch 1400RPM washer dryer
Offers less harm to the environment and is the best energy-efficient washer dryer.
Provides anti-wrinkle and anti-vibration features along with an eco silence drive and gives hygienic wash.
Keep every cloth tangled-free and offer less noise.
Samsung WA65A4002VS/TL washer dryer
Comes with excellent wash quality, is easy to use, has eco tub clean features, and saves energy to a great extent.
Helps in rapid drying and comes with an intuitive LED control panel and an auto-start feature.
Whirlpool royal plus fully automatic washer dryer
Comes with 12 wash programs such as an aqua store, daily, delicate, heavy, hard water wash, whites, eco wash, bed sheet.
Ensures thorough wash with uniformity and is energy efficient, also saves two buckets of water.
Refrigerator
This is the best choice among green appliances, as it offers a huge capacity for you to store any product without any trouble.
It consumes less energy in comparison to other refrigerators and also comes in an attractive style.
Its coolant fluid does not contain any harmful substances like hydrofluorocarbons and chlorofluorocarbons.
Comes with a touch screen and is user-friendly, and is also enriched with unique features.
LG 687 L free inverter refrigerator
Offers an auto-defrost function to avoid ice build-up and offers uniform cooling anytime.
Is durable along with less noise and is energy efficient, and offers express freezing.
Maintains proper temperature along with several digital sensors.
Whirlpool 200 L 3 single door refrigerator
Offers auto defrost technology and a hassle-free experience.
Maintains freshness for a longer duration and avoids bacterial growth.
Is energy-efficient.
Samsung 579 ltr refrigerator
Offers extra storage with a convertible freezer so you can get fresh food.
Ensures food freshness and avoids odor mixing.
Includes a water dispenser that would give fresh water.
Is more energy-saving and emits less heat.
Panasonic 584 ltr refrigerator
Offers eco-friendly LED lights along with stainless steel handles.
Offers proper storage of items and avoids odor mixing.
Ensures spacious storage of food items.
Television
Television can also act as an eco-friendly home appliance and depicts saving money by going green. 
Eco-friendly televisions are devoid of any harmful metal and can be used for a long time.
These televisions come up with unique technology that saves energy consumption and makes your home greener.
Samsung LED Smart TV UA32T4340BKXXL
A portable and lightweight television that is perfect for moving.
Includes LED screen with HD resolution.
An ideal eco-friendly product.
Sony Bravia android LED television
Offers smart Android TV features that would give a fantastic feeling.
Offers excellent connectivity features.
Is great energy-saving television.
Mi android smart television
Supports all android facilities and is a smart television with new technologies.
Provides built-in WiFi along with excellent connectivity.
Comes with an LED panel, and you can enjoy popular apps on one single screen.
Redmi android smart LED television
Offers various apps with good connections.
Includes LED panels that would make it an environment-friendly home appliance.
Offers commendable and new features.
Induction top cooker
Offers auto-switch mode whenever you place a utensil over it or take it out.
It includes embedded pan size technology, which determines power consumption as per its size.
The best eco-friendly appliance is loaded with various features such as auto heat up, roasting zone, programmable lock, and minute reminder.
Prestige induction cooker
Provides good durability and safety along with innovation.
Goes well with its attractive and sleek design.
Offers flame-free heating that would make cooking safe.
Pigeon cruise induction top cooker
Includes high-quality electric part that saves against short circuits.
It becomes very durable with superior-top plate cans and can tolerate high temperatures.
Saves energy due to its auto shut-off feature and is very reliable.
Philips induction top cooker
Easy to use induction top cooker that is designed with stainless steel.
Saves tremendous energy and time that would make it sustainable.
Havells Induction Cooktop
Provides a portability feature designed with stainless steel.
Offers a smart touch sensor that would make it easy to use.
Is lightweight and consumes less energy.
Air conditioner
Eco-friendly air conditioners save a lot on your electricity bills along with proper cooling.
It has a removable panel that cleans up your air conditioner before reusing and offers intelligent design.
These types of air conditioners have wide and long airflow vents.
Voltas inverter split air conditioner
Comes with dust filters and antibacterial coating along with an inverter compressor.
Don't have ozone depletion potential that would be beneficial for the environment.
Offers low global warming potential.
LG inverter split air conditioner
Includes antibacterial and dust filters along with dehumidifiers.
Saves energy to a large extent and produces less noise.
Offers comfort and auto restart feature.
Panasonic inverter split air conditioner
Comes with antibacterial and dust filters and dehumidifiers.
Includes new technology of WiFi and works with google assistant.
Provides comfortable sleep along with voice control.
Carrier inverter split air conditioner
Includes dehumidifier and dust filter along with inverter technology.
Can adjust according to heat load.
Saves energy to a high extent.
Advantages of eco-friendly home appliances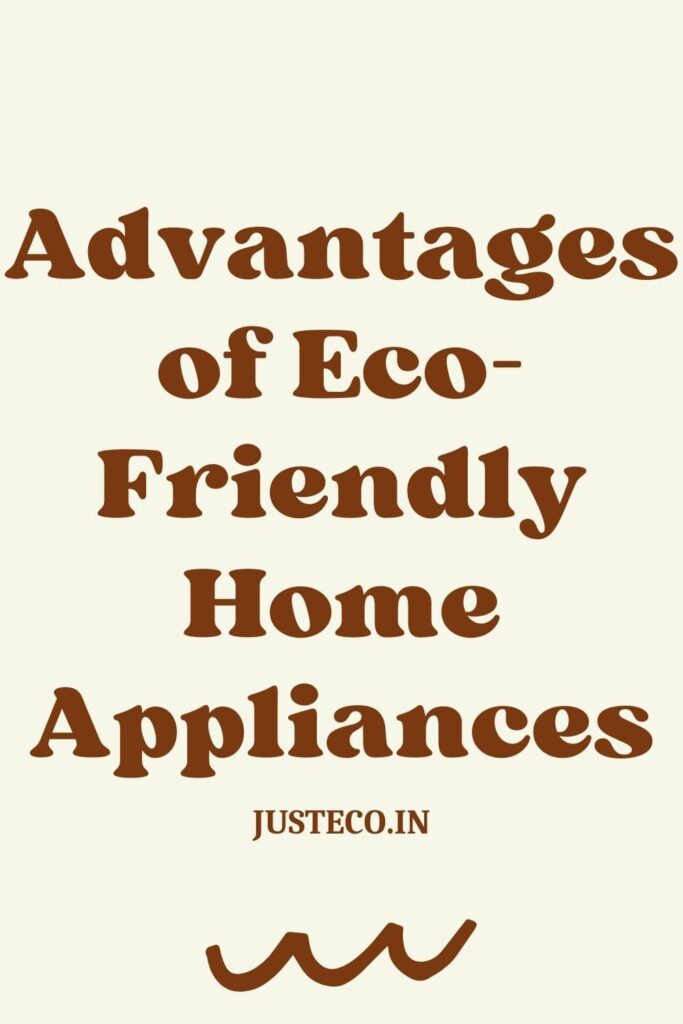 Nowadays, household appliances are the major contributor to dangerous and toxic greenhouse gases. So, make use of today's latest innovations to lessen harmful emissions, as these innovations would help you improve your lifestyle and protect your environment.
Thus, the more significant energy-efficient appliances you use, the less would be your electricity bills. Hence, here are some importance of eco-friendly products, head over to the benefits of these great appliances.
1. Avoid greenhouse emissions
Greenhouse gases act as the primary contributor to climate change and global warming and increase Earth's warmth. Fossil fuel burning would release a tremendous amount of carbon dioxide into the atmosphere, so the use of energy-saving appliances would make it less. Devices such as refrigerators and dishwashers would significantly save energy and make the environment healthy.
Also Read: 5 Important Sources Of Renewable Energy
2. Saves water
Everyone requires pure water, and conserving water is of utmost importance. So, make use of eco-friendly home appliances that consume low energy and reduce your electricity and water bill. These appliances provide an excellent convenience in your day-to-day work and protect the environment as well.
3. Saves money
Energy-efficient or environment-friendly appliances help you to save money besides saving electricity bills. Replacing your incandescent bulbs helps you to lessen energy consumption and saves energy bills. Make your household chores hassle-free and save your money in return.
4. Improve life quality
These environmentally friendly appliances make your life easier and also enhance your quality of life quality. Many devices require less maintenance and would help save time, as these appliances last for a longer duration. The use of eco-friendly home appliances makes your life healthy and happy and allows you to inhale clean air.
Conclusion
Saving energy is parallel to protecting the environment, and, interestingly, you could save a considerable amount of energy with proper precaution. In this article, the list of sustainable home appliances is covered, and it only depicts how to protect the environment.
Nowadays, various prominent companies and organizations are designing different electricity-saving devices. Search for eco-friendly home appliances with ease and make sure to encourage other people also.
More Articles: